Apprenticeships are a great way to continue your education and enter into the world of work if further study at school or university isn't for you.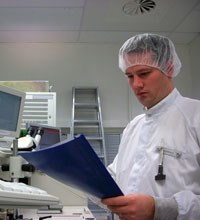 Our latest data has seen the number of apprenticeships being undertaken within the UK pharmaceutical industry continue to rise. Apprenticeships are available for people older than 16 and normally last 2-3 years on average. They include on-the-job training, as well as attending college, university or training centres part-time to gain a qualification, so you can earn while you learn.
What can I study? 
There are many different apprenticeships available, the following are just a few examples which have been developed specifically for life science and industrial science companies.
Process operator (Level 2)
Maintenance technician (Level 3) 
Manufacturing technician (Level 3)
Laboratory technician (Level 3)
Laboratory scientist (Level 6)
Process/plant engineer (Level 6)
A number of other apprenticeships in areas such as regulatory affairs, quality assurance, IT, finance and marketing are being delivered across the industry.
Apprenticeships in Life Sciences at levels 2 and 3, and a higher level Technical Apprenticeships are available in Scotland. More information can be found at the Skills Development Scotland​ ​​website. 
Will I get a qualification? 
Many approved apprenticeships lead to a recognised qualification, with some apprenticeships providing the opportunity to study part time for a Foundation or​ Honours degree. ​
The type of qualification depends on the level of the apprenticeship:
Level 2: An intermediate apprenticeship is equivalent to five good GCSE passes, and often involves a qualification such as a BTEC.
Level 3: An advanced apprenticeship is equivalent to two A-level passes, and can include qualifications such as NVQ level 3 and often a relevant knowledge based BTEC.
Level 4+: Higher-level apprenticeships can involve working towards a foundation or bachelor's degree.
Level 7: Postgraduate, master's level apprenticeships are being delivered.​
As you will carry out your apprenticeship within a particular company you will learn the exact skills that your employer wants you to have, and this may well lead to long-term employment with them. 
Either way, your apprenticeship will give you evidence of the skills you have learnt, improving your employability. 
Even if you don't do your apprenticeship in a pharmaceutical company, the skills and qualifications you gain through an apprenticeship elsewhere, such as in the NHS, may well help you to get a job in the pharmaceutical industry in the future. 
Will I be paid? 
Many consider apprenticeships an opportunity to earn while you learn. Apprenticeships are treated as full employees, which means earning at least the national minimum wage for apprenticeships, if not more, alongside training being paid for by the employer which provides huge benefits to careers development.
Finding an apprenticeship
Apprenticeships are advertised locally, online and on individual company websites.
Some apprenticeship vacancies for the pharmaceutical sector are advertised on the Cogent skills website. 
Information on which companies offer apprenticeships can be found by searching the Pharmaceutical Recruiters section of the website.
For more information and alternative sources of vacancies have a look at the following websites:
Applying for an apprenticeship
Taking on an apprentice is a big investment for a company and there's a lot of competition for places. Employers are going to want to make sure you're the right person for the job, so be prepared to submit a CV, fill in an application form and attend an interview as you would for any other job. 
Encouragingly, more pharmaceutical companies than ever are taking on apprentices across a wide range of business areas. Our latest survey on industry-academic links found a 33% increase in apprenticeships across the pharmaceutical industry compared to 2019, with the biggest increase seen in people pursuing higher apprenticeship qualifications equivalent to bachelors and masters degrees.
To find out more about being an apprentice in the industry have a look at the following case studies:
You can also visit the Institute for Apprenticeships and Technical Education website here.
Last modified: 29 November 2023
Last reviewed: 29 November 2023