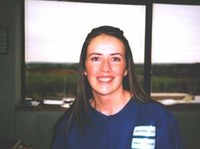 Julie
Integrated Process Team Production Coordinator
Attracted by an advertisement for apprentices I decided to join the company's work-based degree scheme rather than going straight to university. Julie
So, what do you do?
I'm a Production Coordinator in the IPT (Integrated Process Team) with responsibilities for manufacturing and packaging key products for therapeutic areas; over 2.5 billion tablets are shipped worldwide each year from this IPT alone.
What does your typical day involve? Do you work mostly on your own or as part of team?
Recently, I've been working on a number of continuous improvement activities for my company, including the reduction of changeovers on packaging lines from 16 to 9 hours, saving around 168 hours per year for just one line. I've also been leading on work to reduce batch cycle time for a granulation area from 18.5 to 12 hours per batch and have been working alongside operators to gain a better understanding of the processes. I oversee a team of 15 operators and technicians.
How long have you been in your current role?
I swapped my lab coat for production overalls when I was promoted to my current role. I felt this was a natural progression, as I was comfortable with all the lab systems, had the required people management skills and needed a challenge.
How has your career developed?
Within a month of joining the company, I had started day-release studies. After two years I had achieved a Higher National Certificate in Chemistry followed by a four-year degree in Analytical Chemistry. Throughout my training, I was treated just like any other analyst on the team. The company was really supportive, providing six extra study days a year for coursework and exam revision. I also completed:
NVQ level 2,
Regulatory training and;
the site's own TQA 1, 2, 3 and 4 courses (which focus on problem solving, continuous improvements and lean work).
Having completed a Diploma in Management studies, I'm continuously looking for new learning challenges, including further management qualifications.
Why did you decide on a career in the pharmaceutical industry? What qualifications and experience did you have when you entered the industry?
Aged 18 and with A levels in Chemistry, Biology and French, I was keen to pursue a university degree but concerned about the financial cost. Attracted by an advertisement for apprentices I decided to join the company's work-based degree scheme rather than going straight to university.
Why did you make this decision? Or was it more of a consequence of something else?
I have no regrets about the route I've taken. I've trained with some fantastic people, and by doing work-based training I've got no student debt and achieved a wide range of transferable skills – technical, management, IT, HR and continuous improvement – as well as all-round business knowledge and experience.
What is it like socially where you work?
There are many opportunities to take part in things outside of work. I've participated in the site's community relations programme and have helped teach local children about the great career opportunities that science offers. As part of the emergency response team, I've also trained in firefighting techniques and search and rescue with the local Fire Brigade.
What are you most proud of in your career?
One of the highlights for me was making a presentation to the worldwide President of our company, who visited the site while I was an apprentice.
What possibilities are there for your career in the future?
I see my future as a senior Director within my company and have no desire to move to another company because I'm always progressing and learning new skills.
What do you think are the most important skills for someone in your role to have?
In the past 10 years I have studied hard for qualifications to promote my career and have been willing to change direction from laboratory to production.
What one piece of advice would you give to someone seeking a career in the pharmaceutical industry?
Take every opportunity that's given to you from presenting to senior managers to changing departments to gain more experience.
Always remember that compliance (whether it is cGMP or safety) is paramount in all areas of our business and always being in compliance means you have a head start on everyone and can concentrate on doing your very best.
Last modified: 20 September 2023
Last reviewed: 20 September 2023