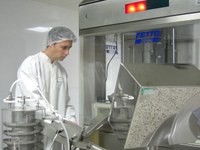 Craig
Manufacturing Operator
If I made a mistake the whole batch of tablets would have to be scrapped, so that's a million pounds down the drain. Craig
​So, what do you do?
I work in the manufacturing department as an operator.  Basically, I am responsible for a machine that converts granulated mixtures of the raw materials into tablets.  Once they have been made, some types of tablet go off to be coated, others go to be packed in blister packs or are exported in bulk.
How long have you been in your current role?
Less than two weeks! When I first came here I worked in the packaging department as a packaging operator, I did that job for five years.  I have taken this new job because it's the next step up, it's a better salary grade and it's more responsibility.
What does your typical day involve?
When we come in we pick up from the last shift with a handover.  We have a priority board showing what needs doing. There may be six or seven machines for five people to run and we decide which has priority and who will run which machine.  We find out if there have been any problems and what stage each machine is at.  After each batch has been made the machine is cleaned down, it can take as long as 19 hours to clean down and set it up ready to make the next batch.
It is important that I set it up with the right tolerances to make tablets to the specification.  If I made a mistake on the machine the whole batch of tablets would have to be scrapped, so that's a million pounds down the drain.
When each batch is finished we have a lot of paperwork to do, everything has to be documented ready to be audited. When I came into the job I was told we make two things, we make tablets and we make paper.  Some people say that we make more paper than tablets!
Do you work on your own or as part of a team?
In my new job I work as an individual on a machine, but we help each other out if there are any problems. In packaging we worked as a team.
What qualifications and experience did you have when you entered the industry?
I left school when I was 16 after GCSEs and served my apprenticeship at a local engineering firm. I did Level 2 and 3 NVQs in engineering manufacture and mechanical and electronic maintenance engineering. Through day release one day a week at a local college I also got an ONC in Electronic Engineering.
Do you think additional qualifications or experience would be useful for someone entering the industry now?
No, it's not a necessity to even have the qualifications that I have. People can learn to run the machines without these qualifications. However it does help, it makes you more confident in running the machine, especially if things go wrong.  You know where to look and understand the problems and why things are happening.
What do you think are the most important skills for someone in your role to have?
You need to be competent in mechanical and electrical skills and be good with computer systems.  Most machines these days are run through some kind of computer system.  You have to be good at fault finding and rectification of faults and always be looking at continuous improvement. You shouldn't be satisfied with the way that it is going; you should be looking at ways to improve your area.
Why did you decide to move into the pharmaceutical industry?
I had been at the engineering firm eight years as a maintenance technician and wanted a change. I was looking either for a different role at that factory or to work in a different factory.  The company I now work for is a well respected company in the local area with good pay scales and bonus scheme; it is a clean environment and well organised.
What are you most proud of in your career?
I was pleased to get my new job. The two areas – manufacturing and packaging – are quite separate, so I have the chance to get experience of what goes on in a new area.
What possibilities are there for your career in future?
It's very early to say but I'd like to stay in manufacturing for a while. It's good for my CV to have experience in both the manufacturing and packaging sides, to have seen the process all the way through.  If I decide to stay in manufacturing I could probably go on to a role where I was in charge of people in one area.
What is it like socially where you work?
We have a sports and social society which organises events throughout the year including raising money for charity. These are good for meeting people from other departments who you wouldn't meet otherwise.
What one piece of advice would you give to someone seeking a career in the pharmaceutical industry?
Don't be worried by the fact it looks so high tech.  You might think that it looks so high tech that you won't be able to manage the job; but once you get in and get trained you will find out that it is all carefully controlled, and the systems wouldn't allow any dangerous errors to occur.
Last modified: 20 September 2023
Last reviewed: 20 September 2023