Voluntary Scheme on branded medicines
Voluntary Scheme on branded medicines
The new 2019 Voluntary Scheme 'VPAS' is a commitment by industry, the NHS and Government to support innovation for the benefit of patients across the UK.
This year the pharmaceutical industry signed an agreement with the UK Government, that will give the NHS complete certainty on how much money it will spend on branded medicines that includes all new medicines, over the next five years.
We've been managing spend on medicines in this way through voluntary agreements for over 60 years, and this new agreement includes more measures than ever before to ensure that patients in this country can get access to new treatments as quickly as possible.
The scheme works by capping the rate at which NHS spend on medicines can grow.
If the NHS ends up spending more money on medicines than allowed by that cap, then the industry automatically pays back.
As well as that UK wide financial capital medicines, the agreement also includes measures specifically targeted to England to ensure we've got better ways for pharmaceutical companies to work with the system on individual products.
Another very important commitment from the NHS is to identify five classes of medicine that are likely to add the most health gain to NHS patients and to really make sure that access to those medicines is on a par with other European countries.
We're going through an incredibly exciting period for pharmaceutical innovation right now.
This agreement should mean the NHS patients are able to access treatments as quickly as possible, but in a way that shouldn't give any financial concern for the NHS.
The Voluntary Scheme
This scheme strikes a balance between supporting innovation in the pharmaceutical industry, helping to get the most cost-effective medicines to patients as quickly as possible, and ensuring complete predictability on spend for the entire branded medicines bill for the NHS.
The VPAS means that the branded medicines bill will not grow by more than 2% in any of the next 5 years.
Medicines spend under control
This pro-innovation deal is particularly important as the UK leaves the EU. The scheme includes a commitment from NHS England to increase uptake of new medicines for the five highest health gain categories in line with the top performing countries in the world. 
This is a significant step forward and is set to benefit thousands of patients. The ABPI will be working with NHS England to identify these key areas.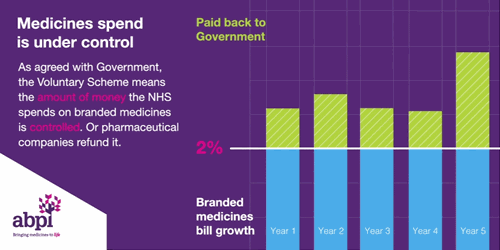 All new medicines and significant indications will now routinely be appraised by NICE. This means the NHS in England can have total confidence that every medicine that is approved is both clinically and cost-effective and should be rapidly made available to all eligible patients, without delay.
The scheme supports small and medium sized companies through a new series of exemptions and payment relief to encourage innovation and growth.   
Freedom to set list prices is maintain for new active substances (NAS), along with these products having exemption from payments for three years from the month of licence, starting with products licensed from 1st January 2018.