MMIP Newsletter - July 2018
MMIP Newsletter - July 2018
This is the latest update from the Medicines Manufacturing Industry Partnership capturing the key highlights from the first six busy months of this year. If you have any feedback on the content or information here then please email us at MMIP@bioindustry.org. If you have any colleagues you feel would be interested in learning more about the work of MMIP then please ask them to get in touch with us or sign up to our mailing list here. 
Sent on behalf of Andy Evans Chair, Medicines Manufacturing Industry Partnership (MMIP)
MMIP Annual Conference 2018
This year's MMIP conference, delivered by KTN and sponsored by ABPI with support of BIA, focused on the technology and innovation driving the future of medicines manufacturing within the UK, and the support to the sector provided through the Industrial Strategy Challenge Fund (ISCF).
Speakers from across MMIP, the wider manufacturing community and from emerging industries explored the role of future enabling technologies, such as digital design, automation, robotics and synthetic biology in the medicines manufacturing of tomorrow.
You can watch the round-up of the conference and interviews with the MMIP leadership team here or read the roundup here.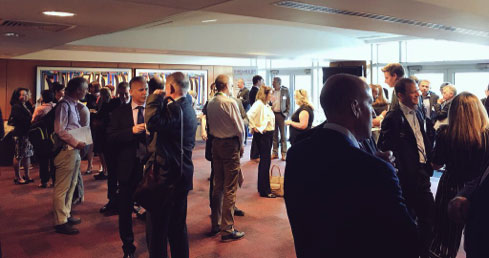 MMIC: New £56 million investment in Scotland to transform the UK's place in the global pharma industry
A new £56 million UK innovation centre, set to revolutionise how medicines are manufactured, is to be located in Renfrewshire, Scotland, allowing the UK to capture a bigger slice of the global £98 billion small molecule pharma market.
Read more about how the world-first Medicines Manufacturing Innovation Centre (MMIC) will offer companies, across the full manufacturing spectrum – primary, secondary and high value – a unique service to develop and adopt novel manufacturing techniques to adapt into their own manufacturing processes.
Supported by Scottish Enterprise (£15 million), UK Research and Innovation, through Innovate UK (£13 million) GSK and AstraZeneca (£7 million each), the project is one of the early projects across the UK to receive funding from the UK's Industrial Strategy Challenge Fund. 

Cell and Gene Therapy Catapult opens manufacturing centre to accelerate growth of the industry in the UK
On April 24, the Cell and Gene Therapy Catapult's (CGT Catapult) unique cell and gene therapy manufacturing centre was officially opened by the Business Secretary Greg Clark and Science Minister Sam Gyimah.
Backed by over £60 million of UK Government investment from its Industrial Strategy, the centre will support and develop the rapidly growing global cell and gene therapy industry in the United Kingdom whilst demonstrating the government's modern Industrial Strategy in action.
The Stevenage-based centre, operating to Good Manufacturing Practice (GMP) standards for clinical product manufacturing, will provide the global Advanced Therapeutics industry with the infrastructure to develop manufacturing capability and systems for large-scale cell and gene therapy clinical studies, and accelerate commercialisation.
Read more here. 

AT Manufacturing Apprenticeship event at #NAW18
The Advanced Therapies Manufacturing Taskforce Action Plan outlines a strategy on how the UK can become the global hub of advanced medicinal therapy manufacturing and ensure the long-term success of this industry in the UK.
One recommendation from the Action Plan was the creation and implementation of an end-to-end talent plan for the sector which encompasses integrated strategies to develop the talent pool at multiple entry-points, ranging from Manufacturing Technicians through to Post-doctoral and Professional levels.
The Gatsby Foundation, with its interest in technical training, funded work to investigate how to create a technician workforce, culminating in an AT Manufacturing Apprenticeship event at GSK Stevenage during National Apprenticeship week (#NAW18)! Potential and current employers joined apprentices, training providers, funders and accrediting bodies to explore the benefits of apprenticeships within AT Manufacturing, where information was provided on the latest developments in delivery from the Institute for Apprenticeships (IfA) and suitable apprenticeship programmes identified within the sector.
Following the event, Innovate UK allocated £1.5m to the Cell and Gene Therapy Catapult to develop AT Manufacturing Apprenticeships - see here for the Advanced Therapies Manufacturing Apprenticeships blog, Apprenticeship Guideline booklet from the event and Cell and Gene Therapy Catapult press release which you can read more about below. 

Life Sciences Council
The Ministerial Industry Strategy Group (MISG) has transitioned into a new Life Sciences Council (LSC), representing an increase in the value of the sector with two Secretaries of State (Matt Hancock and Greg Clark) co-Charing the Council, with Pascal Soriot for industry; and Liam Fox, Secretary of State for International Trade also in attendance. 
The MMIP sits as an Expert Group, chaired by Andy Evans, feeding into the LSC.
The first meeting was earlier this year and covered The Life Sciences Industrial Strategy & Sector Deal – including progress made so far and the welcome involvement of the NHS.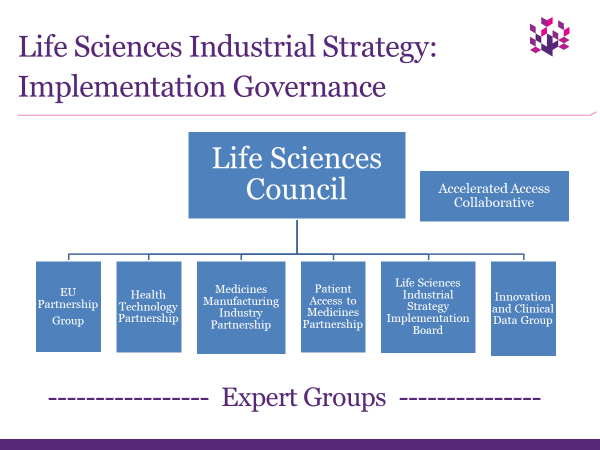 Ian McCubbin OBE – congratulations!
Ian McCubbin, former SVP Strategy Logistics and External Supply, GSK and former Chair of MMIP, has been awarded an OBE for his services to the pharmaceutical industry, through his role at GSK and early leadership of MMIP. A fantastic recognition for a leader and champion of our sector.

CGT Catapult announces major UK investment in skills and capabilities
The Cell and Gene Therapy Catapult (CGT Catapult) have announced a significant scale-up of skills and capability training to bridge the gap between regulatory approval of cell and gene therapies and their integration into front line health services.
It comprises £3 million, funded through the Government's Industrial Strategy Challenge Fund (ISCF) for Advanced Therapies Treatment Centres (ATTCs) and awarded following the recommendations of MMIP.

Expressions of Interest
EOIs for the Industrial Strategy Challenge Fund Wave 3 funding are to be announced later this year and will go through a short listing process by Innovate UK shortly.

Current Funding Opportunities
BioIndustry Association: A summary of funding opportunities is available on the BIA website or via Innovate UK.
Knowledge Transfer Network: Sector maps are available via KTN.


Upcoming Activity
Manufacturing ATMPs – moving from approvable to commercial success (contact sarah.goulding@ktn-uk.org for details), 18 September
CMAC-MIT International Symposium for Continuous Manufacturing of Pharmaceuticals (ISCMP), 3 - 4 October, London
UK Bioscience Forum, 18 October 2018, London
CMAC Open Day 2018, 25 - 26 October, Technology & Innovation Centre, Glasgow
Annual bioProcessUK Conference, 20 – 22 November 2018, Edinburgh
Please contact us at MMIP@bioindustry.org or join our LinkedIn group. If you have any colleagues you feel would be interested in learning more about the work of MMIP then please ask them to get in touch with us or sign up to our mailing list.
Last modified: 20 September 2023
Last reviewed: 20 September 2023