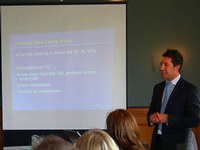 The pharmaceutical industry offered me everything that I was looking for in a career. Tim
So, what do you do?
I am currently employed as a Sales Trainer for a pharmaceutical company based in Southampton. My responsibilities include the Training & Development of both Head Office and field based employees. I plan and deliver a variety of training from pharmaceutical products right through to communication skills based courses. I also work closely with field based employees in order to develop interpersonal skills with customers.
What does your typical day involve?
I have no typical day in my current role! If I am not planning or delivering a training course then I am working on a project or coaching a representative out in the field.
Do you work mostly on your own or as part of team?
I am part of a four person Training & Development Department. We work on departmental projects together whenever we can. We tend to work individually when it comes to our own responsibilities.
How has your career developed since you entered the industry?
I joined the pharmaceutical industry in 2004 as a Medical Representative covering both primary and secondary care. In 2006 I relocated to the south of England and took on this role.
Why did you decide on a career in the pharmaceutical industry?
I conducted a lot of research after leaving university and found that the pharmaceutical industry offered me everything that I was looking for in a career. The industry allowed me to apply previous skills and knowledge that I had gained and there are lots of different career paths that can be taken. The industry has a good reputation and the salaries and benefits are excellent.
When did you make this decision?
Getting into the pharmaceutical industry is not easy, I was fortunate enough to secure a place within two months of searching for a role as a medical representative. I managed to do this as I researched the industry extensively and also set up a number of shadow days with experienced medical representatives.
What qualifications and experience did you have when you joined the industry?
I graduated from Manchester Metropolitan University with a BSc degree in Sport Science & Psychology. I worked for a short time as a trainee Physical Education teacher but soon realised that what I really wanted was a role within a sales environment. I initially worked as a recruitment consultant, this gave me excellent exposure to the sales environment and enabled me to gain the experience I desperately needed in order to join the pharmaceutical industry.
Do you think additional qualifications or experience would be an advantage? What might be valuable?
A degree of any sort is always useful. A science background is advantageous but not essential. Some form of successful sales experience is also helpful. The industry is constantly changing so I would encourage individuals looking to join the industry to gain a basic level of understanding surrounding the NHS. This will stand you in good stead during the application process.
What are you most proud of in your career?
I have pushed myself since leaving University; this enabled me to move on in my career quickly. Relocating and leaving friends & family to undertake my current role has been hard, but my ambition is carrying me through. I am a firm believer in 'taking opportunities'.
What possibilities are there for your career in the future?
Marketing or Regional Management will be my next move. The pharmaceutical industry is almost unique in that it offers so many different career paths and it is up to the individual to decide which one to follow.
What do you think are the most important skills for someone in your role to have?
Time management and organisation skills are essential. Good interpersonal skills are important as is the ability to communicate effectively with colleagues at all levels.
What one piece of advice would you give to someone seeking a career in the pharmaceutical industry?
Do your homework! Research as many different companies and roles as you can, and gain a basic understanding of the NHS and the issues that surround it. The industry is highly competitive so it is important to get into this mindset early on and get ahead of the game by beginning your application process today!
Last modified: 20 September 2023
Last reviewed: 20 September 2023