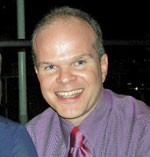 I head up a team of trainers and training coordinators who provide training on running clinical trials. This includes training on technical regulations and laws, computer systems and the behavioural ('soft') skills needed to effectively do the job. Tim
What does your typical day involve?
My day is very varied and can depend on whether I am running a training course or 'in the office'.
An office day involves the usual email back and forth traffic on various projects, then could involve meeting with groups in the business for which my group develops training. We would discuss what skills and their staff need, where they are now and what they need in future. Part of the solution to their needs may be training, which could involve developing an instructor-led course, an e-learning course or facilitating discussions 'on-the-job'.
As I manage a team, part of my day would always be talking with them on what they need to do and this could involve helping to design training and putting courses together. We also have a lot of technical systems work in managing training curricula for staff, so that would also be a typical area of work in a day.
When training, things are very different! – it is then all about keeping the delegates on the course involved in exercises and discussions – by the end of a day you are ready for some relaxation!
As I am part of a global group we often travel to countries to train staff as well, so this adds another aspect to the job which is stimulating and enjoyable.
Do you work mostly on your own or as part of team?
This would be about 50:50 – I am part of a global training team of about 30 individuals and we then work with the business areas outside our own team.
How long have you been in your current role?
Nine years in my current role, 22 years in the industry.
What qualifications and experience do you have?
I have A Levels in Biology, Chemistry and Maths and a BSc in Biochemistry from the University of Kent
When and why did you decide on a career in the Pharmaceutical Industry?
I pretty much fell into the industry when looking for 'science' based jobs after university and the company advertised for graduates.
How has your career developed since you left university?
I started off working on clinical trials for an anti-gastric ulcer drug, looking at the studies we were doing in patients - analysing their data.  I was always interested in the technology side of the job and took the opportunity to then work on developing a computer system for managing clinical trials. This took me to live and work in the US for a while, which was a great experience.
I then started to head a project looking at how we could go from capturing data on paper at hospitals/doctor's surgeries to using laptops – this was way before the concept of a smart phone or an iPad! I always liked the training aspect of my job and moved into that area and eventually moved to heading up a team and into my current position.
My career has taken me to many countries and I have been very luckily to see and interact with different cultures and people.
Do you think additional qualifications or experience would be an advantage for someone entering the industry now?
As the industry supports so many different disciplines, really the important thing is to have a good level degree and the enthusiasm to work in the industry. If you wanted to look at a specific qualification, then there are pharmaceutical medicine qualifications that could lead to an MSc. Experience, once you are in the industry is always going to be the key for longer term career movement.
What is it like socially where you work?
It is open-plan, modern and relaxed office environment and I have met many people who have become close friends over the years. Hard work is expected but the balance between that and home life can be managed. The people you work with are the most important piece for me and luckily, I have a great team and we laugh a lot!
What are you most proud of in your career? 
Specifically in training to see how I have helped many people understand some complex areas and make their lives easier. Overall, having contributed to getting effective drugs onto the market is a great feeling.
What possibilities are there for your career in the future? 
As the company I work for is large and the industry itself also, my particular area of training has many possibilities and my work and goals are varied and change as the business and technology changes.
What do you think are the most important skills for someone in your role to have?
Being adaptable and embracing change as this is a constant force in the industry and for someone in training I need to have these skills to continually learn myself and ensure others learn too.
What one piece of advice would you give to someone seeking a career in the pharmaceutical industry?
Ensure you understand how you fit into the process of getting drugs to patients and really be motivated by that. Be prepared for hard work but accompanied by great personal satisfaction.
Last modified: 20 September 2023
Last reviewed: 20 September 2023