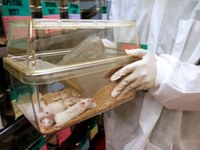 During my degree I became interested in toxicology after doing some modules that included aspects of toxicology. Jan
So, what do you do?
I work for a department that manages the relationship between the pharmaceutical company and organisations that it outsources toxicology research to.  I manage the day to day relationship and partnership with external companies and provide analysis on the external companies service. This is to build a successful partnership between my company and the contractor and also ensures that we have good quality work from our contractors.
I plan when our research needs to take place, according to the point a drug is within the development cycle. I then negotiate research slots with the contractors. If there are any issues with the quality of work or if we need to negotiate new timelines, different experimental designs or need revised costs, it all goes via me to the contractor. Likewise if the contractor has any issues then I will deal with the issue or consult the scientists involved.
What does your typical day involve?
The majority of my work is based on a monthly cycle.  I look at planning data and liaise with the scientists to decide which research need to be done and when it needs to be carried out. Quite often I have to chase up scientists and check that they are happy for the research to go ahead and that the research is still required.
I have a lot of planning meetings.  I have to negotiate with all our contractors and I then schedule and confirm the work and let all the people involved know where the research is to be conducted and who the scientists are and also when data and reports can be expected.  All of this has to be confirmed in writing and followed up.  I also need to ensure that the contractors are paid and that we have suitable contracts in place in order to ensure confidentiality and that both companies and the data are protected legally.
My day is basically spent communicating with people via phone and email.  I also evaluate the quality of service provided by the companies who are delivering the work, to ensure we are getting the standard of quality we would want.
I also take on projects assessing supplier capability for specific scientific niche areas.
How long have you been in your current role?
I've only been in this current role for six months but I joined the industry about four years ago.
How has your career developed since you entered the industry?
When I first joined I was employed as a study director to run in vivo studies very early on in drug development. After three years I decided I wanted gain more business experience so I moved to this role.
Why did you decide on a career in the pharmaceutical industry?  When did you make this decision?
I didn't actually decide to go in to the pharmaceutical industry until I had already started my career.  After my degree I worked for a food and personal care company as a toxicologist for three years.  But I wanted to work in the pharmaceutical industry as I wanted to be involved in assessing the toxicology of materials that are designed to be active in your body rather than something like a personal care product that is not supposed to be.  I also wanted to gain a better understanding of in vivo toxicology as I think it is important for a career in toxicology. I also like the fact that in a pharmaceutical company we are developing medicines that can make a real difference to others lives. The idea that a new or better medicine can developed to be given to patients is very motivating.
What qualifications and experience did you have when you entered the industry?
I did A-levels in Biology, Chemistry and Physics.  I then decided to go on to do a three year degree in Biochemistry and Microbiology at the University of Westminster.  During my degree I became interested in toxicology after doing some modules that included aspects of toxicology.  So I then decided to do a Masters in Toxicology at the University of Surrey, for which I gained a scholarship as I had obtained a first in my honours degree. Having a scholarship was great because I didn't have to pay fees and I also got living expenses.  I decided to do my dissertation for my Masters outside of the University within a government led lab to gain more experience of working in a non-academic lab environment and working with other scientists.  After graduating from my Masters I joined a graduate training scheme as a toxicologist for a large food and personal care company.
Do you think additional qualifications or experience would be an advantage for someone entering the industry now? What might be valuable?
For a career in toxicology, I recommend having a MSc. Toxicology or a PhD in a toxicology related field. However, these are not essential but certainly provide a good grounding in toxicology to start you career.
Do you work mostly on your own or as part of team?
I look after my own niche area, which is independent, but I'm always working with other scientists. I'm also part of a bigger team, and we all work together as a team.  I'm in an office with a number of members of my team, so I often chat to them for advice and so on.
What is it like socially where you work?
It is good. Everyone is lovely, the people are very friendly.  I've recently had a child so I don't go out as often as I used to, but they quite often organise evenings out.
What are you most proud of in your career?
I must admit I am very proud to work for the company I work for, and what can happen if we develop the right medicines.
What possibilities are there for your career in the future?
I find it very hard to see where I want to be in five years time, I think I would like to be a toxicology representative, which would involve seeing a drug through from very early on in development to market, if you're lucky!  I'd also like to monitor toxicology studies on behalf of my company. My current role will give me some of the skills and experience that I would require for that role.
What do you think are the most important skills for someone in your role to have?
You need to be very organised, good at planning and need to be able to facilitate meetings.  You definitely need good negotiation skills when talking to outside suppliers.  Obviously you also need to have the scientific background.
What one piece of advice would you give to someone seeking a career in the pharmaceutical industry?
Work hard!  I think it is worth having some work experience in the industry. A gap year in industry or an industrial placement year would provide some good experience within the industry and also enables you to make some contacts that could be useful later on in your career.
Last modified: 20 September 2023
Last reviewed: 20 September 2023