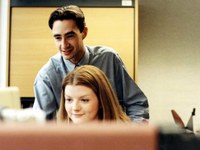 A typical day can include discussing trial designs, writing analysis plans and reviewing analyses. Jane
So, what do you do?
I work as a statistician within the pharmaceutical industry.  Within the company I work on later stage trials, such as post-marketing and label extension studies.  Working in this department has meant that I have gained experience in both clinical trials and non-interventional studies.
How has your career developed since you entered the industry?
Since entering the industry nearly a year ago I have certainly learnt a lot of new things which have enabled me to feel more capable in my job role. This in turn has meant that those around me are confident in my work and the advice that I give them.
Why did you decide on a career in the pharmaceutical industry?
Having left university with a degree in maths I was unsure of what career path to take and so I enrolled in a Masters in medical statistics.  I thoroughly enjoyed this course and found the subject interesting and so the pharmaceutical industry was the next logical step in my career progression.
When did you make this decision? 
Although I knew I wanted to continue using my medical statistics qualifications, it wasn't until people from the various pharmaceutical companies came to my university to give us presentations on the possible career paths, that I decided the pharmaceutical industry would be the best career path for me.
What qualifications and experience did you have when you entered the industry?
I have a BSc in Mathematics from Nottingham University and an MSc in Medical Statistics from the University of Leicester
Do you think additional qualifications or experience would be an advantage for someone entering the industry now?
My qualifications are sufficient and a good building block for the skills I have learnt since joining the company.  If I had been aware of it at university, I think doing a year in industry as a undergraduate student would have been valuable. It would have made me more aware of the career opportunities available to me earlier on, as well as giving me a taste of what to expect.
What does your typical day involve?
A typical day can include being involved in the discussion of trial designs, the writing of analysis plans and the reviewing of analyses. I am also involved in non-project activities, such as organising training for other statisticians.
Do you work mostly on your own or as part of team?
Generally I work as part of a team that will include a clinician and a study manager.  As we each have our specialist areas we rely on each other to provide the information needed to carry out high quality trials.
What is it like socially where you work?
When I joined the company I found all my colleagues to be very welcoming, and within my department there are often group activities in which to get involved.
What are you most proud of in your career? 
Although it was a daunting experience starting a new career and moving to a new place it all seems to have happened with relative ease. I now feel settled here and have made new friends, whilst also picking up the skills needed to do my job.
What possibilities are there for your career in the future? 
As I am new to the industry the possibilities for my career are limitless.  In the future I hope to gain experience in the other phases of clinical trials and eventually I would like to be a lead statistician on a project team.
What do you think are the most important skills for someone in your role to have?
I think in my role good communications skills are key, especially as I often work with countries across Europe when communications can sometimes be hard.
What one piece of advice would you give to someone seeking a career in the pharmaceutical industry?
If someone was seeking a career in the pharmaceutical industry I would advise them to seek out opportunities to use explain statistical ideas to non-statistician where possible, as consultation and communication is a key part of working in a team designing clinical trials.
Last modified: 20 September 2023
Last reviewed: 20 September 2023