Specialist Medical Representative
Specialist Medical Representative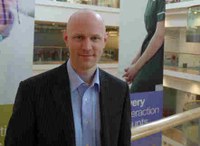 Matt
Oncology Sales Representative
When I hear a success story from a clinician that my product has changed a patient's life for the better I feel proud. Matt
So, what do you do?
I am currently involved in the launch of an exciting new Cancer drug that we launched just over 4 months ago, as well as continuing to promote two more established Oncology drugs. This involves working with the key accounts in my territory to promote the three brands. I have meetings with hospital clinicians, cancer networks and NHS PCT commissioners. My main focus at this early stage with the launch of a new product is to inform the clinicians of the clinical benefits  as well as discussing the benefits and cost impact to cancer networks and NHS commissioners.   As well as creating clinical demand for our drugs I need to ensure that funding is available when the right patients are identified so they have access to the drugs.
What does your typical day involve?
I am field based and my day usually starts with planning for the calls ahead ensuring I am on the customer agenda, as well as business planning and general emails and admin. I spend a big part of my day on territory completing the appointments I have with the various customers as well as trying to access additional customers who are critical to achieving my account goals.  At the end of the day I spend more time reviewing my interactions from the day, following up on information requests from customers,and completing reports/paperwork. I also have to spend time continually updating my knowledge of the ever changing NHS through reviewing all information in the public domain relating to my accounts.
Do you work mostly on your own or as part of team?
Both! I work alone the majority of the time as I am the only person on my geographical territory responsible for my products. I am however part of a regional team and have 6 other oncology account manager team mates that I regularly speak to on the phone or email and there is a great team culture. My Manager spends time with me on field visits, as part of my continued development and also reviewing my business with account reviews.  I also have regular contact with the cross functional team at head office which includes marketing, medical and finance.  They support me in the field where necessary for the business.
How long have you been in your current role?
5 years.
What qualifications and experience do you have?
I am slightly unusual in that my qualifications are not related to the pharmaceutical industry as I have an HND in Civil Engineering. I have worked in various sales roles since University and joined the pharmaceutical industry from the Fast Moving Consumer Goods (FMCG) industry.
When and why did you decide on a career in the pharmaceutical industry?
I joined the pharmaceutical industry in 2004 and had always perceived the pharmaceutical industry as highly specialised and very professional. I wanted to be involved in sales with a product that I believed in and felt would make a positive difference to people lives. Ideally I wanted to work for a blue chip company with the career options and benefits this includes. I wanted a career with more stability than other industries I had been involved with before.
How has your career developed since you left university?
My first job when I left university was in sales in the finance industry. I spent 4 years in the finance industry and then joined the FMCG industry again in a sales role where I spent the next 5 years.
I joined the pharmaceutical industry with my current company in 2004 as a medical representative in primary care and have worked my way up to my current role as oncology account manager.
Do you think additional qualifications or experience would be an advantage for someone entering the industry now? What might be valuable?
My role is fundamentally a sales role. I would advise someone considering entering the industry to do as much research as possible to decide if a career in sales is for them. Ideally speak to someone currently in the industry to find out the real life pros and cons. Sales experience with evidence of success is essential, and do not under estimate the level of technical knowledge you will need to learn.
What is it like socially where you work?
Although I mostly work from home alone I am out and about every day and have built some great relationships with various customers who I look forward to visiting as part of my job. I also attend regional sales meetings with my team every few months and these are generally 2 or 3 day residential meetings. Although we speak regularly on the phone we may not have seen each other for a while and make up for it in the evenings when we all go out together.
What are you most proud of in your career?
My role is very specialised and I managed to rise through the ranks quite quickly. I love the fact that I alone am responsible/accountable for the success of my brand in my territory. When I hear a success story from a clinician that my product has changed a patient's life for the better I feel proud. I also have a great work/life balance.
What possibilities are there for your career in the future?
I work for a large blue chip company and there are sometimes great opportunities to apply for different roles. For now I am happy to stay in sales and am always learning and developing in my current role.
What do you think are the most important skills for someone in your role to have?
Account management, selling skills, flexibility, technical knowledge, ability to work on your own as well as part of a team, self motivation, tenacity and the ability to bounce back when things aren't going so well.
What one piece of advice would you give to someone seeking a career in the pharmaceutical industry?
Do as much research as possible so that you know what will be expected of you. If you decide to go for it that's great, it can be very rewarding if you are prepared to put the work in.
Last modified: 20 September 2023
Last reviewed: 20 September 2023