Research Scientist – Video
Research Scientist – Video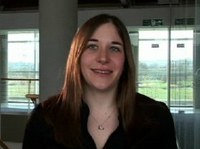 Video transcript
I'm Jody and I'm a research scientist.
You do need a degree,  I did a levels and then did a degree in biomedical science, and I also did a placement year so got a year in industry, and before I started here, I had two and a half years experience in the industrial setting.
If you are interested, go for it. There's lots of opportunities and opportunity to develop and go further and you can work for some of the big companies and be involved in the latest drug developments.
My job is a bit like a detective, you're constantly looking at problems and looking at ways to work them out, it can be quite hard work because it's quite time consuming but when you do get to the end it's worthwhile.
It's challenging but at the end of the day, you do get to something, a product, and you've achieved something and when that product goes to market, you feel that you've been part of something that's worthwhile that's going to help people in the future.
It can be quite repetitive, and you can be doing experiments again and again and again and you don't quite get the results that you want. And it can be quite hard if you don't know what's wrong with it and you have to keep repeating it, but when you do get there is worth it.
The project time given is entirely my own responsibility so what I do with it is up to me. If I do well with it likely to progress further. There is scope for me to go up within the company. It's very interesting. It's very challenging, but the end you make a difference to people's lives and that's what it's all about.
My job is a bit like being a detective, you are constantly looking at problems and ways to work them out. Jodie