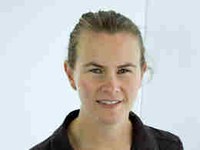 Charlotte
Research Project leader
The level of responsibility I have has gradually increased with time. I am now accountable for ensuring the success of the project and delivering new lead compounds for clinical testing. Charlotte
So, what do you do?
I am the research project leader for an antiviral project which is just about to enter clinical trials. As project leader I am responsible for ensuring that the project progresses towards the key decision points in a timely a manner, and making sure that we make the right decisions to conduct the best experiments at the right time.
What does your typical day involve?
A difficult question as every day is different! A typical day revolves around checking to see what new information is available for the project. This data might be in the form of availability of drug substance, results from preliminary in vitro screening, data from safety studies or even results from clinical trials. I go on to assess the implications of the data, requesting more data if required and meeting with members of the team to work out what the next actions should be.
How long have you been in your current role?
I have been a project leader for the past year and a half, before that I worked as a medicinal chemist working on a variety of projects from allergy and respiratory, pain and sexual health.
What qualifications and experience do you have?
I have four A levels, Chemistry, Physics, Maths and Further Maths and a BSc (Chemistry) from Southampton university. After completing my degree I took a year out before studying for a PhD at Imperial College London, carrying out research towards a total synthesis of the anti cancer natural product taxol. I then completed a further year of academic research in Canada.
When and why did you decide on a career in the pharmaceutical industry?
During the year out between my degree and PhD I worked for Glaxo Group Research in the Process Development department. This was my first experience of the pharmaceutical industry and I enjoyed the challenge of working as part of a team with a group of like minded scientists, and decided that it was a career I would like to pursue further.
How has your career developed since you left university?
The level of responsibility I have has gradually increased with time. Initially I was responsible for the design and synthesis of compounds to test, whereas now I am accountable for ensuring the success of the project and delivering new lead compounds for clinical testing.
Do you think additional qualifications or experience would be an advantage for someone entering the industry now?
Given the competitive nature of the current job market, I think a period of academic research and or relevant industrial experience would be invaluable.
What is it like socially where you work?
There is a good atmosphere within the department, and there are plenty of opportunities to meet people, whether you enjoy running in the mud (like me), playing music, or socialising in the local pubs and restaurants.
What are you most proud of in your career? 
Whilst working in the allergy and respiratory group I was part of the team that discovered a compound that has potential as a once daily treatment for asthma. I was one of the first medicinal chemists to work on the project and was responsible for some of the key advances within the project. The compound has been in the late stages of clinical development and we are hopeful that the compound will make it all the way to market.
What possibilities are there for your career in the future? 
I hope to continue to grow within my current role, building successful teams and as a consequence, ultimately delivering new and improved treatments to patients.
What do you think are the most important skills for someone in your role to have?
Good communication skills, an ability to prioritise, and probably the most important, the ability to build good working relationships with experts from all of the different disciplines.
What one piece of advice would you give to someone seeking a career in the pharmaceutical industry?
Stay focussed on the science and don't make too many assumptions!
Last modified: 20 September 2023
Last reviewed: 20 September 2023