Regulatory Affairs Consultant (Freelance)
Regulatory Affairs Consultant (Freelance)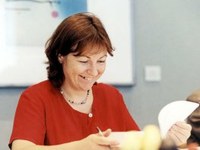 Helen
Regulatory Affairs Consultant
I had worked as a scientist (doing my PhD) and liked science, but preferred to wear a suit rather than a lab coat. Helen
So, what do you do?
I work as a freelance consultant in Regulatory Affairs for pharmaceutical companies.  The work is very varied and depends on the client's needs.  Sometimes I work for a set period of time as part of their in-house regulatory team. Other times I will work in my office preparing licence applications for clients, or product licence variations, what ever may be required.
What does your typical day involve?
On an office day I will work through my emails and post.  I try to do work for European clients in the morning and for US colleagues in the afternoon so that I can call people in the right timezone!  I may need to contact the Medicines and Healthcare Regulatory Agency (MHRA) to discuss an ongoing application or begin to prepare a product licence application.
It can be lonely as a freelancer when the work is done remotely from the client although it still entails teamwork between yourself and the client.  It is good to work in-house to top up on the interactions as it is easier to exchange information and pleasantries! Those in the pharmaceutical industry are a social bunch.  I keep in contact with colleagues and there is a network for independent regulatory consultants.
How long have you been in your current role?
I've have been working as a freelance consultant for over three years.
How has your career developed since you entered the industry?
I've been working now in Regulatory Affairs for over 10 years.  I started my career in regulatory consultancy working for a specialist contract research organisation working on a variety of products in varying stages of product development.  From there I moved to Janssen-Cilag Ltd in the UK office for four years, working on a variety of products, including those for epilepsy and over-the-counter medications.  After the birth of my son I wanted to work flexibly and chose to work freelance.  I now work about three days a week and haven't looked back!
What is it like socially where you work?
I'm always making new connections.  When freelancing it's important to be able to go and say hello to people and ask questions as often companies have different ways of doing the same thing.  Social media is a great way of maintaining connections when moving between clients.
What are you most proud of in your career?
Working on the development of a novel therapy for multiple sclerosis.  Alas the clinical results meant that product development stopped before Phase 3, but it was so rewarding working on a therapy that, until that point, had the potential to help patients and my input could help get that product to the patients as swiftly as possible.
It's always pleasing to see patient information leaflets that you have written being used by patients.
Why did you decide on a career in the Pharmaceutical Industry?
The job (regulatory affairs) looked interesting and it happened to be in the Pharmaceutical Industry.
When did you make this decision?
I had worked as a scientist (doing my PhD) and liked science, but preferred to wear a suit rather than a lab coat.  Regulatory Affairs allows me to use my science and logic at a desk job.
What qualifications and experience do you have?
I have a BSc in Microbiology and Microbial Technology and a PhD in Biochemistry. I have 10 years' regulatory experience having worked in roles at the Country, European an Global level.
Do you think additional qualifications or experience would be an advantage for someone entering the industry now? What might be valuable?
I found my PhD useful in that it helped me to critique reports quickly and confidently, however, it is not essential.  The Industry seems to want new starters with some experience, which can be a Catch 22.  Some companies offer placements for Sandwich students – a great way of gaining experience.
What possibilities are there for your career in the future?
What do you want to do?  Regulatory Affairs is a truly transferable skill between countries, the skills are the same even if the legislation is different. It's not unusual for consultants to go back to working for a company or one can continue freelancing, or set up their own consulting business.
What do you think are the most important skills for someone in your role to have?
Attention to detail and an ability to translate complex points into simple straightforward language.  Logic and creativity.  Diplomacy –convincing assessors that your point of view is the one to use, convincing clients that there are other options to consider.  Self-motivation – if I don't do the work I don't get paid!
What one piece of advice would you give to someone seeking a career in the pharmaceutical industry?
Go for it!  Each company has a different culture and ways of working.  The scope of opportunities is great and the variety and rewards are good too.
What's the biggest difference between working in academia and the pharmaceutical industry?
The outlook.  Academia can be very focussed and in-depth, whereas in the pharmaceutical industry one is always aware of the bigger picture.
Last modified: 20 September 2023
Last reviewed: 20 September 2023