Regulatory Affairs and Qualified Person
Regulatory Affairs and Qualified Person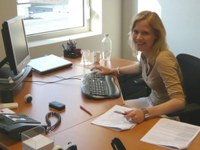 Larike
Regulatory Affairs Manager and Qualified Person
A degree in pharmacy provides a broad background and is therefore suitable for many different types of jobs within the pharmaceutical industry. Larike
So, what do you do?
I have a a dual position as both Regulatory Affairs Manager and Qualified Person (QP) for a medium-sized generic pharmaceutical company.
As a Regulatory Affairs Manager, my job is to obtain and maintain marketing authorisations world-wide for the company's medicinal products. As a QP, I authorise the release to the market of batches of medicinal products and thereby have the ultimate responsibility for the quality of these batches.
How long have you been in your current role?
I've worked in Regulatory Affairs for almost four years now, and have been a Qualified Person for about eight months.
How has your career developed since you entered the industry?
I started working in the pharmaceutical industry almost five years ago, after finishing my pre-registration pharmacist training in a London hospital and registering with the RPSGB. Being Dutch, but having never lived in the Netherlands before (always moving around as a child, attending International Schools), I was curious to find out more about my 'home' country and decided to work for the only large innovative Dutch pharmaceutical company I knew.
I worked at that company for one year, in the chemistry, manufacturing and controls section of the Regulatory Affairs department where I was responsible for the pharmaceutical aspects of the product. I then switched to the Regulatory Affairs department of a smaller generics company where I had full product responsibility, including the pharmaceutical, clinical and administrative aspects of regulatory affairs. I started as a Regulatory Affairs Project Manager and became a Regulatory Affairs Manager after about two years (the difference between the two lies in the level of experience and responsibilities).
About a year and a half ago, I started training to become a Qualified Person (QP), with the intention of switching to the Quality Assurance (QA) department after a couple of years. The switch came earlier, as a result of a maternity leave, so I started my QP work about eight months ago. However high workload and current staff shortage has meant that the switch to the Quality Assurance department was not a full one and I now hold a dual position.
What qualifications and experience did you have when you entered the industry?
When I entered the industry, I had a (first class) Masters degree in Pharmacy from the University of Bath and was registered with the Royal Pharmaceutical Society of Great Britain, after having completed a year of pre-registration training in a hospital in London. I subsequently used this RPSGB registration to register as a pharmacist in the Netherlands, although registration as a pharmacist is not necessary in order to work in industry.
Why did you decide on a career in the pharmaceutical industry?
The Pharmaceutical Industry appealed to me because it is an international, multidisciplinary working environment and it provides very good opportunities for growth.
When did you make this decision?
I wanted to study pharmacy at university, but I always knew I wasn't going to be a community or hospital pharmacist. I was interested in the pharmaceutical industry, health/regulatory authorities, and large organisations such as the WHO. During my summer holidays as a student, I did two internships at UN organisations; UNICEF and the UNFPA. Towards the end of my pre-reg year in hospital, I visited the Netherlands and spoke to people working in the pharmaceutical industry as well as in regulatory authorities. I became interested in the licensing of new medicines, hence my decision to start my career in regulatory affairs.
Do you think additional qualifications or experience would be an advantage for someone entering the industry now? What might be valuable?
Additional qualifications are not necessary; I found a Masters in Pharmacy and registration as a pharmacist to be sufficient. However, for those interested in carrying out research, a PhD would be beneficial. It is also listed as a requirement for R&D jobs by many companies.
Work experience is always valuable when entering the industry. For students, an internship in a pharmaceutical company would be a good idea, if only to get a feel for all the different types of work that can be done there. People from many different backgrounds come to work in the pharmaceutical industry, and experience in production (e.g. small-scale GMP production in hospital or in the foods industry), experience with clinical trials, project management, etc. are all valuable.
What does your typical day involve?
That's a tough question… there's no such thing as a 'typical' day; every day is different, which is one of the things I like most about my work. Generally though, my work days consist of phoning, emailing, writing and reviewing documents, and attending meetings; it's a typical office job. One big difference between working in RA and working in QA is that in Regulatory Affairs I can generally plan my daily activities a lot better than in Quality Assurance. The work in Regulatory Affairs consists more of long-term projects for which I can plan my time quite well. The work in Quality Assurance is far more reactive.
Do you work mostly on your own or as part of team?
All work done within the pharmaceutical industry involves teamwork, but on a day-to-day basis I work mostly on my own.
The teamwork consists of teams responsible for a particular new R&D project or for a commercial product. Representatives from many different departments are required in these teams, in order to cover all aspects; commercial, clinical, pharmaceutical, operational, regulatory, analytical, quality, etc. These teams meet and discuss with each other on a regular basis, but daily work is individual, working in one's area of expertise for a product, with the support of colleagues within the department, who are responsible for other projects/products.
What is it like socially where you work?
Everyone knows everyone and there is very little hierarchy. The atmosphere is informal compared to several other companies I've seen. However, the company is relatively young and has grown a lot over the past years. As a result, the family-type atmosphere of 5-10 years ago is now slowly changing into a more typical large organisation. On a personal level, I consider quite a few of my colleagues to be good friends.
What are you most proud of in your career?
In general, I'm proud of my career as a whole, so far. However, the achievements that are most memorable to me are those things that I did for the first time round. These include the first marketing authorisation I obtained for the company, the first registration file I wrote and submitted; my registration as a QP with the Dutch authorities, and the first successful FDA inspection I was involved in.
What possibilities are there for your career in the future?
Loads! A degree in pharmacy provides a broad background and is therefore suitable for many different types of jobs within the pharmaceutical industry; not just regulatory affairs or quality assurance, but also production, marketing, project management, research and development work, etc. I'm interested in just about all of these options; my main drive is to keep learning.
What do you think are the most important skills for someone in your role to have?
Flexible, communicative, pro-active, self-assured, precise, analytical, fast learner, resilient to stress. Languages are always useful as well; particularly the ability to speak, read and write English properly, but other languages such as Spanish, French, German, etc. come in handy too.
What one piece of advice would you give to someone seeking a career in the pharmaceutical industry?
Talk to people who work in the pharmaceutical industry, to find out more about the different types of jobs available and to get a better idea of your particular area of interest.