Pharmacovigilance Scientist
Pharmacovigilance Scientist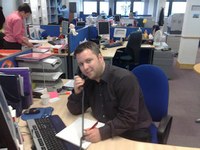 Chris
Pharmacovigilance Scientist
The more skills you have the better, you will always be competing against people with similar skills and degrees. Chris
So, what do you do?
Pharmacovigilance is the process of collecting, monitoring, researching, assessing and evaluating information from healthcare providers and patients on the adverse effects of medications to ensure that drugs on the market are safe for patients and to identify new hazards associated with the medication.
My role primarily involves the assessment and processing of adverse events received from healthcare professional and consumers within the UK and Ireland and the submission of these reports to boards of health, which in turn helps to identify any potential hazards for the patient.
What does your typical day involve?
Each day is very different which is good because it makes everyday interesting. On a daily basis we receive reports of adverse reactions to drug from healthcare professionals, consumers and boards of health, these are assessed and reported to Boards of Health... I also spend much of my day liaising with variety of people including healthcare professionals to ensure the reports we create are accurate and that all information required to make accurate assessments is available. I have also had the opportunity to take on a number of departmental projects and provide training to new starters and colleagues from other departments.
Do you work mostly on your own or as part of team?
From receipt of report to the submission to the Boards of Health a multitude of team members contribute to a variety of processes. It is therefore crucial to be able to work in a team in order to coordinate these processes so that they are completed accurately and in a timely fashion. However each person within the team must be able to work well individually, as we all have our own tasks to perform, such as the writing of standard operating procedures, individual projects and a variety of other tasks which arise on a day-to-day basis.
How long have you been in your current role?
2 Years.
How has your career developed?
After completing university I worked as a laboratory technician for the University of Bristol for 6 months and gained some valuable experience, but I eventually decided that laboratory work was not for me. So I decided to take a year out to see the world and consider the future of my career. On my return and from the advice of some friends I looked at opportunities within the pharmaceutical industry. I particularly found pharmacovigilance of interest as it was primarily focused upon ensuring the safety of patients. I now have a good understanding of pharmacovigilance and the department and am able to give back to the team by providing training to new starters and mentoring colleagues sharing the skills I have developed.
What qualifications and experience did you have when you entered the industry?
I completed 4 A-levels in Maths, Biology, Chemistry and General studies and subsequently studied Applied Biologics at the University of the West of England in Bristol. This course allowed me to spend a year in a work placement and so I spent a year working for the University of Cincinnati in USA. I graduated from university with a 2.1 BSc (Hons) in 2004. I believe a key skill to develop for this role is a good understanding of medical terminology, which is of importance to understand what is happening to a patient who is experiencing any type of reaction to a therapy.
Do you think additional qualifications or experience would be an advantage for someone entering the industry now?
The more skills you have the better, you will always be competing against people with similar skills and degrees. It is of great importance to be able to stand out in a crowd as well to be able to demonstrate that you have used these skills in the past. Within this role particularly there are specific master degree programmes in pharmacovigilance that would obviously stand you in good stead as well as this it maybe advantageous to gain work experience in a pharmaceutical company, this could be carried out by volunteering or a summer job.
What is it like socially where you work?
Within the department there is a great atmosphere, there are often company paid meals as well as team building events which have included day trips to attractions such as London zoo and Thorpe Park. The company as a whole looks after it staff very well; there are company conference at top hotels and other social events like Christmas balls. There is also an active social club which arrange many different activities from theatre shows to 5 a side football.
What are you most proud of in your career?
The most proud moment of my career was representing my company during an MHRA (medicines and healthcare products regulatory agency) inspection in which I was interviewed by auditors and had to demonstrate all the knowledge I had develop since working for the company. This really reinforced the feeling that I have learned so much while working here and that people within my department had faith in my ability that they were happy for me to represent the company.
What possibilities are there for your career in the future?
Pharmacovigilance is an expanding area, primarily due to an increase in regulation and product withdraws based on safety concerns. For my own career there are numerous directions to choose. As providing training is an important aspect of pharmacovigilance I would like to follow this path into a more senior training role. But as the skills and knowledge here are cross-functional it would be possible to transfer to other departments and continue my career in other areas. The options are almost limitless.
What do you think are the most important skills for someone in your role to have?
There are numerous skills that have to be mastered such as time management and communications skills but I personally believe the most important skill would be the ability to complete work accurately and precisely. Small errors can have drastic outcomes to things like our compliance to boards of health which could lead to the possibility of legal and even the closure of a company.
What one piece of advice would you give to someone seeking a career in the pharmaceutical industry?
I would say to always be flexible; ultimately people that succeed are people that go above and beyond what there job descriptions say. People that put themselves forward to carry out variety of tasks will always be of value to a company and will generally be successful.
Last modified: 20 September 2023
Last reviewed: 20 September 2023