Pharmacist (pre-registration)
Pharmacist (pre-registration)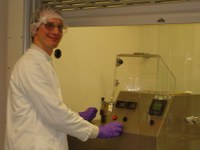 John
Pre-registration Pharmacist
I have been surprised by the number of pharmacists I have come across, they are literally everywhere from discovery to marketing. John
So, what do you do?
I am employed as a pre-registration pharmacist working within an inhalation formulation group. As the pharmacy pre-registration year needs to include at least six months clinical experience I will be spending the second half of the year at Guy's and St Thomas' hospitals in London.
Why did you decide on a career in the pharmaceutical industry?
I completed my MPharm at the University of Bath, graduating in June 2007. I decided quite early on during my studies that industrial pharmacy was appealing to me and went about trying to gain relevant experience. In my second year I completed two weeks work experience at a local generics company, and then after my third year I was accepted onto a 10-week project-based internship at a major research and development site.
Whilst relevant experienced was undoubtedly useful during my pre-registration interviews, placements for pharmacy students within the pharmaceutical industry are hard to come by. Don't let lack of industrial work experience put you off applying, as the limited availability of opportunities is recognised and will not count against you at interview!
What does your typical day involve?
My main responsibility is the delivery of an individual project, which is around performance optimisation for dry powder inhalers (DPIs), with the aim of delivering more drug to the lung, with less getting 'stuck' in the mouth, throat and upper airways. However, despite having my own project I am also a fully-integrated member of the formulation team. Much of the work involves liaising with other colleagues, whether it is to get advice on how to do something 'right first time', or collaborating within or outside the department to help me complete certain pieces of work.
It is worth noting that the company did not expect me to be an expert in inhalation on day one, and although inhalation had been covered in one of the pharmaceutics modules at university, all necessary training for me to complete my project has been given and has been extremely useful.
What do you like most about your job?
In addition to my project the company has not forgotten that I am also a trainee pharmacist, and is actively supporting me in ensuring that my pre-registration year is a successful one: in fact the company's pass-rate is 100% first-time to date.
I am supported in attending the regional London pre-registration study days and OSCEs (objective structured clinical examination) whilst on the industrial half of my placement, and fortnightly clinical seminars with two pharmacists within the company have been set up for me and the other pre-registration trainee to help us keep our clinical knowledge up-to-date.
The official role of these two pharmacists is 'pre-registration mentors', with whom we can discuss any issues around settling-in, with our project or any aspect of the pre-registration year on an informal basis. However, as we have so far been having a highly enjoyable and problem-free time, we have been able to focus solely on clinical issues.
The company has also provided as with a list of key contacts around the site, with whom we can set up meetings to discuss the function of that department or in some cases arrange a visit of a day or so to gain a fuller understanding of the operations of that department. The aim of the cross-site visits is to provide us with a good general understanding of the various stages of the drug development process, and to appreciate where our own department fits in around others.
Overall, between my project supervisor, my pre-registration tutor, the team manager, the pre-registration mentors and the pre-registration manager the support offered is excellent, and second-to-none.
What is it like socially where you work?
Whilst I find my work challenging and exciting, the social side to the company has also been surprisingly good as there are literally hundreds of other recent graduates and sandwich degree placement students, so there are absolutely plenty of other people my own age for socialising with. The only trick is to make sure you get on the appropriate e-mail distribution list, and then you'll never be stuck for something to do!
There is also a company gym and social club, both of which are well equipped, with the social club boasting a restaurant and bar in addition to numerous sporting facilities.
What possibilities are there for your career in the future?
Upon completion of my pre-registration year I am currently thinking about either undertaking a PhD or applying for a position within the industry - most likely in a formulation-related area. However, there are numerous career possibilities within the pharmaceutical industry for pharmacists, and a PhD is certainly not a pre-requisite for many of them.
Within my own company I have been surprised by the number of pharmacists I have come across, they are literally everywhere from discovery to marketing.
Last modified: 20 September 2023
Last reviewed: 20 September 2023