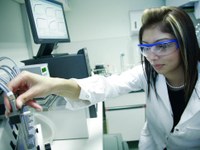 Sonia
Formulation Scientist
In my pre-registration placement I got a snapshot of the jobs pharmacists can do in industry and I was attracted to work with world class researchers. Sonia
So, what do you do?
I support early solid dosage form development of tablets and capsules for phase II clinical trials for the anti-infective therapeutic area.
What does a typical day involve?
One thing I like about my job is that each day is different, and there is a lot going on. When I get in to work I check my diary and emails. About half my time is spent in meetings with other members of the multidisciplinary team for this therapeutic area, including chemists, analysts, clinicians and people who work in regulatory affairs and marketing. We review progress and decide on what to do next. The rest of my time is spent in the lab. The variety and fast pace makes the day whiz by!
How has your career developed since you entered the industry?
I have only just started in this role, for the last four years I have worked in Research Formulation supporting the scientists working from Discovery through to 'first in human', phase I clinical studies. My job was to help select molecules that would be suitable for development by looking at their biopharmaceutical properties.
Why did you decide on a career in the pharmaceutical industry?
I have always been interested in science and decided to study pharmacy at university. In the summer after my first year at university I worked in community pharmacy and the next summer I worked in a hospital. Although I enjoyed the hospital experience, I happened to bump into some pharmacists who worked for a pharmaceutical company at a conference. They encouraged me to do a summer placement at their company between the 3rd and 4th years of my degree. I really enjoyed this and therefore applied for a pre-registration placement where I spent half the year in industry and half in a hospital. It was tremendous to get a snapshot of the jobs pharmacists can do in industry and I was attracted to work with world class researchers. I really enjoy being at the cutting edge of research and technology. I find the work really challenging and fascinating.
What qualifications and experience did you have when you entered the industry?
I did A-levels in Biology, Chemistry and Maths, and then studied for a pharmacy masters degree at Nottingham University.
Do you think additional qualifications or experience would be useful for someone entering the industry now?
Although it isn't necessary to have a PhD, it can sometimes be an advantage. When applying for jobs in industry you face competition from scientists from other backgrounds. The work I do can also be done by chemists, so it can be quite competitive to get in. I don't have a PhD and it hasn't hindered my progression here. But if you want to do a PhD then it would need to be relevant to the work that goes on in industry.
What are you most proud of in your career?
There are several things I am proud of, but the most recent was when I attended the British Pharmaceutical Conference (BPC) in Manchester and presented a paper there to an audience of about 50 people. The paper covered work I had done on developing a formulation for a low solubility compound to be used in toxicology studies. I got a publication out of it and it made me more confident.
I am also proud of having a career that I really enjoy!
What is it like socially where you work?
I work on a huge site with people of all ages and from different backgrounds. There is a great academic and cultural variety. Lunch, for me, is a social occasion where I meet friends who work in different departments. There are also areas where you can meet for coffee during the day. There is a social club 10 minutes from the site. It has fantastic sports facilities, as well as a bar and restaurant.
What possibilities are there for your career in future?
I would like to become a Qualified Person (QP). A pharmacy degree gives you a good background for this role, as does a chemistry degree. I am now learning more about how medicines are manufactured for use in clinical trials and, as a QP working in research and development, I would be responsible for releasing batches of the medicine for use in clinical trials.
What do you think are the most important skills for someone in your role to have?
Good scientific, analytical, problem-solving and teamwork skills are vital. Organisational skills and communication skills are also necessary. You learn basic scientific skills at university, but once employed you will receive training to do your job.  A passion for science is a massive bonus as, if you are enthusiastic, it will take you far.
What one piece of advice would you give to someone seeking a career in the pharmaceutical industry?
I would say, if you are interested, definitely give it a go. There are so many exciting opportunities in this industry. You can move about and work in all sorts of areas.
Last modified: 20 September 2023
Last reviewed: 20 September 2023