Pharmaceutical Technologist
Pharmaceutical Technologist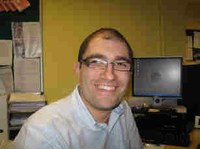 Alan
Pharmaceutical Technologist
I support manufacturing areas by problem solving when pieces of kit go down, and by monitoring the processes involved and raw materials. Alan
So, what do you do?
I support the mass manufacture and production side of things.  I offer support to many manufacturing areas by problem solving when pieces of kit go down, and by monitoring the processes involved and raw materials.  I also ensure that the processes in place comply with quality assurance.
What does your typical day involve?
I work flexi time, my day mostly starts at around 7.30-8 and ends around 5, but if there's a problem on site I can have 17 or 18 hour days.  Firstly I check my emails and see if there are any immediate problems that need addressing; the rest of the morning will probable be spent in meetings.  I walk around the plant, talking to the technicians to see if everything's running smoothly or if there are any issues.  The rest of my time is mainly chasing actions from meetings and writing reports, there's a lot of administration involved.
How has your career developed since you entered the industry?
I entered the industry three years ago, working in biology labs - in environmental monitoring.  I then moved to another company working in quality assurance labs, and since I've been here my role has changed to more of an equipment validation specialist.
Why did you decide on a career in the pharmaceutical industry?
To be honest I didn't really, when I left uni it was a bit of 'I'll take anything that comes along', and the jobs that I was able to apply for and sounded most interesting to me were in this industry.
What qualifications and experience did you have when you entered the industry?
I took A-levels in Biology, History and Geography.  I didn't really know what I wanted to do at university, but a former student had come into school to give a talk on having a year in industry and how great it was - and how they felt it had helped them get a job - so I knew I wanted to a degree that offered me a chance to do that.  I went on to study a biotechnology degree at John Moore's University in Liverpool, and spent a year in quality control labs.  I'm currently studying for a masters in medical virology.
Do you think additional qualifications or experience would be an advantage for someone entering the industry now?
Well, I said it took me two years to get into the industry and I really feel that it was because I got a 2ii in my degree.  If I had my time again I'd probably do a masters straight after my degree, a masters can help depending on the post you are looking to get in to.  Really you should just work hard and try to get the best degree possible as you'll stand a better chance of getting on to a graduate recruitment program, and the year in industry definitely puts you at an advantage.
What possibilities are there for your career in the future?
I'd like to move into biology research and development – in the vaccines department – that's why I'm studying for my masters.
What do you think are the most important skills for someone in your role to have?
Good time management skills, as you need to work to very tight deadlines. For example, if one machine goes down, every hour it's not working can cost £10,000 so you need to be able to resolve problems quickly, accurately and effectively. You need to have excellent negotiating skills and be able to influence people.
What one piece of advice would you give to someone seeking a career in the pharmaceutical industry?
If you're at school and are deciding what degree to do, make sure you do a degree that offers a year in industry.  If you're already in university, work hard to get the best degree you can.  If you're a graduate try to get on a graduate recruitment programme, but if you can't don't give up, keep on applying.
Last modified: 20 September 2023
Last reviewed: 20 September 2023