Pharmaceutical Formulation Scientist
Pharmaceutical Formulation Scientist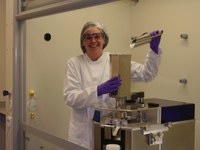 Tamsin
Formulation Scientist
The project I am working on is about to go into clinical trials – so I am looking forward to learning about the next phase of development. Tamsin
So, what do you do?
I am a scientist within a formulation group focusing on treatments for allergy and respiratory problems.
What does your typical day involve?
I spend about half my time in the lab and the other half at my desk. In the lab I formulate dry powder blends and test them. This involves blending the active drug with other materials (excipients) and then filling the blend into a given format before testing, to develop a product which can be inhaled. I also organise the work of other people in the project team.
How long have you been in your current role?
I have worked here for four years. I started here working as a contractor for a scientific recruitment company, but became a permanent member of staff after six months.
Do you work mostly on your own or as part of a team?
I am part of a formulation team, but as well as that I have a lot of interdepartmental contact, with materials scientists, clinical manufacturing groups and others. So you get a good understanding of how it all fits together and the contributions each department makes.
How has your career developed since you joined?
I have had two promotions in the four years I have worked here, I have gained a lot of experience and responsibility. I feel I have learned a lot in a short time.
What qualifications and experience did you have when you entered the industry?
I took A-levels in Biology, Chemistry and Maths. However I get really nervous when doing exams and I had to retake them, and still didn't do very well! The Head of Sixth Form suggested I apply for an HND at De Montfort University, where I had been hoping to study for a degree in pharmaceutical and cosmetic science. I was accepted for this and did well, as it was mainly coursework based, after a year I was able to transfer onto the degree course. I ended up with a 2.1 BSc in Pharmaceutical and Cosmetic Science with honours.
When did you decide on a career in the pharmaceutical industry?
The year in industry I did as part of my degree is the main reason why I ended up working in the pharmaceutical industry. I had no idea what to expect from my placement when I started working for a pharmaceutical company, but after a year there I was hooked! The experience I got gave me confidence when applying for a job when I finished by degree, and made me stand out from the crowd.
What are you most proud of in your career so far?
I am proud of the progress I have made, the increased responsibility and visibility of the work I do.
My company encourages scientists to link with local schools. I have built up a link with a primary school in the local area. It has been a good experience – both in building my confidence, and in getting the children interested in science. I take in equipment that the school doesn't have, such as microscopes, and encourage the children to find science exciting.
What possibilities are there for your career in future?
I hope to progress as I get more scientific knowledge and expertise. The project I am working on is about to go into clinical trials – so I am looking forward to learning about the next phase of development.
Do you think additional qualifications would be an advantage for someone entering the industry now? What might be useful?
The company I work for recruits people at two levels, with a degree or a PhD. If you come in with a PhD you start at a higher grade, it will take me about six years to get to that point. I probably would consider doing a PhD if I was graduating now. However the PhD has to be relevant to the work you want to do in industry, there is also a risk that you could become too specialised and find it harder to get a job.
What are the most important skills for someone in your role to have?
Communication skills are very important. You have to be able to communicate well with people from other departments. I have received a lot of training on the practical scientific skills I need for my job, you have to be willing to go on learning. In my experience you also have to be prepared to accept change at a minutes notice!
What is it like socially where you work?
It is very good. There are thousands of people on site, all different age ranges, and lots of networks exist. For example there is a French network – for people who are French, or want to improve their skills in French. There are all sorts of sports groups and social activities and, almost like being back at university, you can set up a group for anything you are interested in.
What one piece of advice would you give to someone seeking a career in the pharmaceutical industry?
I'd say give it a go and don't have any preconceptions of what it will be like. Sometimes the first few months can seem like you are just doing training and reading, but then opportunities open up and you can find out what you really want to do.
Last modified: 20 September 2023
Last reviewed: 20 September 2023