Medicinal Chemistry Director
Medicinal Chemistry Director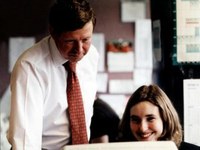 Luke
Director of Medicinal Chemistry
There's a drug that recently came to market, and I was one of three people who had worked on the program when it started. Luke
So what do you do?
Medicinal Chemists design potential new drugs. I lead a department of about 35 staff, including some placement students.  Within the department people work on a number of different programs and it's my responsibility to ensure that the chemical strategies adopted are appropriate.  I'm also responsible for the management of the staff within the department.  I'm a member of a number of different committees within the organisation and I chair the safety committee.
I am also involved with a number of schools initiatives to encourage young people to study and opt for a career in chemistry.  This is something I feel is important, to give something back to the community and it's important for the future of this industry.
Why did you decide on a career in the pharmaceutical industry?
After my degree I didn't really know what I wanted to do, but pharmaceuticals was something that had always interested me.  I'd done some physiology and biochemistry in my degree and had always been interested in biology and medicine, so pharmaceuticals was a way of entering the medicinal arena as a chemist.
What qualifications do you have?
I took A-levels in Maths, Physics, Chemistry and Zoology.  I then went straight into doing a three year joint honours Chemistry and Biochemistry degree at Southampton.  By the end of my second year I realised it was the chemistry that I enjoyed the most and was better at, so decided to focus on the chemistry.  After achieving a first in my degree I got a job as a Chemist with a pharmaceutical company, but decided that it would be advantageous to my career to do a PhD.  So I applied for a number of PhDs on the advice of various people I had spoken to about suitable supervisors and projects, I was offered a PhD on synthetic organic chemistry back in Southampton for three years.
How has your career developed since you entered the industry?
After completing my PhD I joined this company, about 18 years ago.  Initially I made compounds that I was told to make as at first you don't really have a clue what you're doing.  But as I gained more experience I had more input into the design of which molecules I wanted to make and the projects that I worked on.  I worked in the labs for about eight years.  Towards the end of that time I was give a student to supervise for a year and then later a technician to work with.  I gradually took on more of a leadership role and eventually led a team of about eight people, so the amount of time I was spending in the lab got less and less.  Then about six years ago I got this job.
Do you think additional qualifications or experience would be an advantage for someone entering the industry now?
One great advantage these days is the opportunity to do sandwich courses that give you the chance to experience the field and gain a whole new perspective.  At the time I did my degree I had no experience at all.
I don't think it's necessary to have a PhD. Doing a PhD teaches you to think differently and to work independently, but I don't think it's an absolute requirement.  Certainly in our company the training courses available to graduates enable them to develop those skills but they have to compete against people who have PhDs and Post Docs, but that's down to the individuals' abilities.  Whether or not to do a PhD is something that people have to consider carefully, as it is a lot of hard work, it's three to four years more of student debts, but if you want to do one I would thoroughly recommend it.  It's well worth it, if it's right for the individual.
Obviously someone with a PhD will enter the industry on a higher grade.  Most of the people we take on now have done a four year degree which includes a placement which gives a better grounding than a three year course as they have limited amount of practical work.
What does your typical day involve?
It's very varied.  Inevitably during the day there will be dealing with emails.  I have to attend a lot of meetings, so a large part of my time is spent preparing for and attending meetings.  I don't do any practical chemistry and haven't done for 10 years or so, but I spend a lot of time discussing science with department members and biology colleagues, and when I get the chance I read scientific papers.
As a director I have to deal with staff related issues, for example promotions, pay rises, safety issues, training etc.  Different days have different balances.
What are you most proud of in your career?
There's a drug that recently came to market, and I was one of three people who had worked on the program when it started which is very pleasing.  Also a compound from a program that I was a leader of has been found to be useful in another disease area, and I still get phone calls and emails about it.
It also makes me very proud when I see some of the junior people that I work with develop in their roles, knowing that I've played a part in their development.
What possibilities are there for your career in the future?
I suppose the next step on the career ladder for me would be a vice president role within chemistry, which would being responsible for a number of groups of departments within a particular disease area and having a far more strategic role.
What one piece of advice would you give to someone seeking a career in the pharmaceutical industry?
Go for it!  Get a good chemistry degree and experience in a lab.  A lot of people are doing mixed degrees but I can't stress enough that it is the chemistry component that we are really interested in, it's the chemistry knowledge that's going to get you the job.
Last modified: 20 September 2023
Last reviewed: 20 September 2023