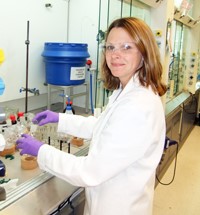 Charlotte
Medicinal Chemist, Respiratory research
I have been involved in three projects where compounds have progressed to clinical trials. Charlotte
​So, what do you do?
I am a medicinal chemist, but also program leader for an early stage phenotypic drug discovery project, at a major pharmaceutical company.
What qualifications and experience do you have?
I joined the company with an MChem degree from Bristol University. I have since completed my PhD due to an innovative scheme set up between the company and the University of Strathclyde. This allowed me to complete my PhD on my day-to-day research.
I have A-levels in Biology, Chemistry and Maths.
What does your typical day involve?
When I first started, my role was ~90% lab work, but in the 14 years I have worked here, this has gradually reduced as other roles have grown.
~10 years into my role, 40 to 50% of my time was spent in the laboratory synthesising chemical compounds. The rest was spent in discussions with colleagues about our work, analysing biological data, designing molecules to make and considering what direction our work should go in. I used computational modelling, X-ray crystallography and data analysis to design molecules that might become new medicines.
I now spend my time between meetings (group or individual) and working at my computer.
How has your career developed since you left university?
As a medicinal chemist, I started my career working predominantly in the laboratory, synthesising intermediates and novel chemical compounds. Soon after joining I was asked to supervise an industrial placement student, since then I have gained management experience through supervising some members of permanent staff. I was also a supervisor for a CASE PhD student who was being sponsored by my company – she spent 3 months in our lab. Supervising her gave me the opportunity to learn about a different type of chemistry to the work I normally do.
As my career progressed I became more involved in the interpretation of biological, physicochemical and protein structure data to enable the design of new ligands. From there, I moved on to a program leadership role, where I am still heavily involved in science, but also working closely with a matrix team of individuals from different disciplines to define program strategy. 
When and why did you decide on a career in the Pharmaceutical Industry?
When I was applying for industrial placements I decided that I would prefer to work in the pharmaceutical industry as I wanted to help people by creating improved treatments for disease.
During my year's placement I decided that this was definitely what I wanted to do. Most people here are motivated by wanting to help cure disease and improve patients' quality of life.
Do you work mostly on your own or as part of team?
Some of the day is spent working on my own, but it is an essential part of my job to work with others, particularly in the program leader role where I am connecting with colleagues in other areas of the business.
I work closely with colleagues – both other chemists in my team and a wider group of scientists including biologists and clinical scientists who are all working on treatments for the same disease area. This programme team could include pharmacologists, toxicologists, drug metabolism and pharmacokinetics (DMPK) scientists, clinicians and sometimes statisticians and other specialists.
What is it like socially where you work?
Great. We have plenty of opportunity for informal socialisation at coffee break or lunch and there are also evening socials organised regularly.
What are you most proud of in your career? 
I am very proud to have been directly involved in three programs which have reached clinical trials, two of which are still progressing. I have also had opportunities to present my work at conferences, through poster sessions and oral presentations.
Recently, I was delighted to be recognised externally for my contributions to the industry with the "RSC's Young Industrialist of the Year Award, 2015".
Do you think additional qualifications or experience would be an advantage for someone entering the industry now?
An MChem 4 year degree with an industrial placement is still a very good qualification to have if you want a job in the pharmaceutical industry.
Some people have a PhD or have been a postdoc before they come to work here. As I already mentioned I completed my PhD whilst working. I don't think there is one "right" path.
What is it like socially where you work?
It is pretty good. We socialise as a team, both informally and sometimes we arrange to go out to lunch together. There are also organised Christmas and summer social events. 
What possibilities are there for your career in the future? 
I am currently really enjoying the program leadership role, but there are plenty of options open to me. I could consider taking more of a line management role, or trying a secondment in another area. It's really up to me to decide!
What do you think are the most important skills for someone in your role to have?
Communication is very important when you are working as part of a project team. You need to be able to explain your ideas clearly to other scientists. Good teamwork is obviously important as are good organisational skills.
What one piece of advice would you give to someone seeking a career in the pharmaceutical industry?
If you are offered a placement as part of your degree you should definitely take it. It is a fantastic opportunity to find out what a job is like before you have to make a decision on what to apply for after your degree. And, as in my case, you may get a job in the company you did the placement in.
Last modified: 20 September 2023
Last reviewed: 20 September 2023