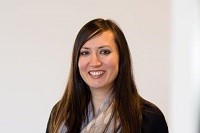 Jenn
Director of Health Economics, Market Access and Reimbursement
It is a tough job trying to obtain access for innovative medicines in this country, and you have to want to keep fighting, always with the patient in your mind. Jenn
What do yo​​u do?
I lead the market access team of a major pharmaceutical company, and our mission is to achieve patient access to our innovative treatments. ​​​
What qualifications and experience do you h​​​ave?
I have a BSc in Biology/Biochemistry, an MBA in Finance, and a PostGrad in Pharmacoeconomics. I have worked as:
A university lab assistant in Vancouver, Canada 
A Health Economist in consulting in Sydney, Australia
A​ Regional Market Access Lead for a global pharmaceutical company based out of Singapore
A Senior Health Economist at the same company but based in Australia
and now as the Market Access Director at a pharmaceutical company in the UK. 
What does your typical day ​​​involve?
Catching up with internal colleagues, answering emails, visiting important external customers such as NICE or the Government, and drinking lots of coffee!
How has your career developed since y​​​ou entered the industry?
I have always been in the area of health economics and market access, with increasingly more senior roles. I started out at an analyst level, worked up to an associate, then to a full economist, a senior economist, then a regional market access role, head of department, and now director.
When did you decide on a career​​​ in the pharmaceutical industry?
When my uncle sadly died of AIDS in 1994, the year before the first reverse transcriptase drug came out that transformed AIDS from a death sentence to a chronic disease. I feel very proud of the fact that our industry had the power to do this.
Do you work mostly on your o​​​​wn or as part of team?
Usually part of a team.
What is it like socia​​lly where you work?
Very collaborative and friendly.
What are you most proud of in your career?
Without a doubt, achieving NICE approval for our prostate cancer drug, abiraterone. I spent four years on this, and everyone thought it wasn't possible.
Do you think additional qualifications or experience would be an advantage for someone entering the indust​​ry now?
Yes – if you want to be in health economics, you need a health economics degree – trust me, you will never be out of a job – this is an area of high demand!
What possibilities are th​​ere for your career in the future?
Not sure where the road will take me – but what I can say for sure is I believe strongly in this industry's ability to make a difference to science and to patients, and so whatever I do next will most definitely be in health and science.
What do you think the mo​​​st important skills are for someone in your role?
Resilience, integrity and a strong scientific background – it is a tough job trying to obtain access for innovative medicines in this country, and you have to want to keep fighting, always with the patient in your mind.
What's the biggest differe​​​nce between working in academia and the pharmaceutical industry?
The commercial pressures in the industry, I would say.
What one piece of advice would you give to someone seeking a career in the pharmaceutical industry​​​​​​​​? ​
Make sure that you have a love of science and the best interest of the patient at heart.​
Last modified: 20 September 2023
Last reviewed: 20 September 2023