Industrial Placement Pharmacologist
Industrial Placement Pharmacologist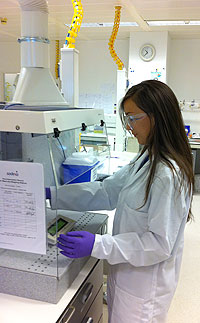 Lisa
Industrial Placement Pharmacologist
I think doing a placement in the pharmaceutical industry was a good opportunity to gain some experience working in a lab. Lisa
​Tell me about your placement
I have been investigating specific cellular mechanisms across different cell types by observing the effects of different blockers on the normal function of the cells. I have used many different types of assays and equipment in order to do this.
What does your typical day involve?
My work can vary from day to day. Mostly I will be in the lab carrying out experiments but I also spend time completing the paper work necessary to document what I have been doing in the lab.
After each experiment I have to analyse the data from it.
How long is the placement, and how far into it are you?
My placement is 12 months in total and I only have seven weeks left.
Why did you decide to take a placement in the pharmaceutical industry?
As I'm doing a degree in pharmacology, undertaking a placement in the pharmaceutical industry was a good opportunity to gain some experience working in a lab. It gives me the best the best possible chance of getting a job when I graduate.
What opportunities have you had to find out about working in the pharmaceutical industry?
I have had many opportunities to shadow other students to observe where they fit into the company, as even within the same department students are completing many different types of projects.
I have also had a tour round the animal unit where the in vivo work is carried out. It was interesting to observe where the animals were kept.
What qualifications do you have?
I have six Scottish Highers in biology, chemistry, maths, accounts, modern studies and psychology and one Advanced Higher in biology.
I am currently studying at the University of Glasgow doing a degree in pharmacology. After doing this placement I should graduate with a Masters in Science instead of a Bachelors of Science.
Do you think it will be easier to find a job with an industrial placement on your CV?
With the current shortage of jobs, I think doing a placement will give me a better chance of finding employment.
Doing an industrial placement has given me many more practical skills to put on my CV and makes me much more employable than graduates that have not had any experience.
What do you think you will do when you complete your degree?
I think I will try to get a job in the pharmaceutical industry as I have really enjoyed my time working here.
Has the placement influenced your thoughts on your future career?
Yes, it has given me the opportunity to experience what it is like to work for a pharmaceutical company, therefore I know what is expected of an employee working in this environment.
What is it like socially where you work?
There is a gym on site, which is good value for money. I regularly play netball at lunchtimes with a group of people. We socialise with people from work by going for dinner and drinks after work. Everyone is very friendly.
There are 12 other students in my department and we all get on very well and socialise at weekends. I have made many friends that I will be keeping in contact with after my placement.
What are you most proud of from the year you have spent in industry? 
I am most proud of the data that I have generated that has helped the programme move forward.  
What do you think are the most important skills for someone in your role to have?
I think that good communication skills are vital as you are expected to share your data with other people in the form of presentations.
What one piece of advice would you give to someone seeking a career in the pharmaceutical industry?
Make sure you have practical experience. Therefore a placement year is the perfect opportunity to get the required experience.
Last modified: 20 September 2023
Last reviewed: 20 September 2023