Industrial Placement (Medicinal Chemistry)
Industrial Placement (Medicinal Chemistry)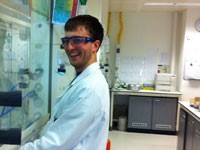 Paul
Industrial Placement Medicinal Chemist
I am in my third year of a four year undergraduate chemistry degree at Bristol University. Paul
What are you doing during your placement?
I am working in medicinal chemistry focusing on finding new medicines to treatment asthma. My placement is for a year, I finish in August.
What does your typical day involve?
We have flexible working so as long as I am here between 10am and 4pm, and work seven and a half hours a day, I can choose the time I start and finish. Mostly it is hands-on synthetic chemistry, but I also use the computer to research new reactions and find out whether people have done similar reactions before and what problems they have had – I need to make sure I don't waste time trying a reaction that isn't going to work.
We record all the work we do in an in-house database. This is needed for legal reasons – the company might need to prove when they first made a particular compound – and it also makes it easier to check what other chemists working here have done. Company scientists used to have to record their experiments in paper notebooks, but now it is all done on the database.
I also attend regular meetings. There are project meetings to discuss the chemistry being carried out – we all share information on what we are doing. There are also seminars; the company is keen for people to expand their knowledge and about 100 people attend each one. It is great to hear others talking about their work. I mainly go to the chemistry ones, but there are biological seminars as well.
Why did you decide to take a placement in the pharmaceutical industry?
I love organic chemistry so I wanted an organic-based placement. I also like problem-solving and thought that this placement would give me good opportunities to apply problem solving to organic chemistry problems.
It was a good choice and I have learned more here than I did in two years at university. At university we mainly follow instructions, although Bristol has an excellent DRM, an electronic lab manual, which helps you understand what you are doing before you do a practical in the lab. So you go into the lab knowing exactly what you are doing; but here you have to really understand what you are doing and why you are doing it.
The pay is good too – it is more than enough to allow you to start paying back your debts. I get £16,000 which is about average – I know of some people earning as much as £19,000, but others get paid less than me. However, it was pretty hard to find a placement. Nearly everyone on my course applied for an industrial placement and from 50 people only 21 got one.
What opportunities have you had, during the placement to find out about working in the pharmaceutical industry?
I have found out that working in industry is different to working in academic research. I have had opportunities to talk to people in my lab about their experiences and I had done a 10-week placement at Bristol University, working with a PhD student before I came here.
There is a different way of going about research. At university, if a reaction isn't working you are more likely to spend time trying to find out why – you persevere longer – in industry progress is more rapid and the research is more intense. Also in industry you have other groups of people who can take on aspects where more work is needed on a particular reaction. There is a lot of collaboration in the pharmaceutical industry.
What qualifications and other experience of working in science do you have?
I have A levels in chemistry, environmental science and maths. I also did AS level computing; it was interesting but I found it a lot of work, so I dropped it to concentrate on my other three A levels. I think having maths at A level is important, if you haven't done maths it can be a struggle, especially in physical chemistry.
Do you think it will be easier to find a job with an industrial placement on your CV?
Yes, definitely. I am very glad I took it on, a placement makes you much more employable – it is very competitive to get a job and proof of experience differentiates you from those that have only spent their time in uni. To get a science job in research, I think it is almost essential.
I have also learned other skills such as teamwork and I have learned so many practical techniques which will be useful in my research project next year and in the PhD I hope to go on to. It has also given me a good insight into the working environment in the pharmaceutical industry.
Has the placement influenced your thoughts on your future career?
Before I came here I decided that I wanted to do a PhD in organic chemistry and I realise it is very hard to get a job at the moment, so a PhD might help me get a job in research.
Socially what has the year been like?
This site is quite unusual in that there are 30-40 chemists in a similar situation to me, so socially it is quite like university. I have got to know people from all over the country and from France.
The project group of chemists, biologists and computational chemists I work in also get together sometime outside of work and the department go up to London together once every few months. The social side in a smaller company may be very different.
We also have good sports facilities and an excellent cheap gym.
Last modified: 20 September 2023
Last reviewed: 20 September 2023