Industrial Placement Chemist
Industrial Placement Chemist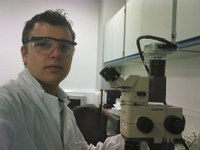 Paul
Industrial Placement Student
My year in industry has undoubtedly opened my eyes to things I may pursue, as well as things I will not! Paul
So, what are you doing during your placement?
I am working in the small molecule crystallography group of a large pharmaceutical company. My main responsibilities include:
Crystallisation of drug molecules, to grow crystals of suitable dimensions and quality for X-ray diffraction study
Managing our database and outsourcing.
Polymorph studies
Working on structures and reports
What does your typical day involve?
It's extremely variable. As well as checking emails/phone messages etc., I may receive and log in a sample, update our database, asses the sample for crystallinity using a polarised microscope, set up a crystallisations screen (slow evaporation, vapour diffusion or temperature cycling), check ongoing crystallisations for single crystals, review a report which has returned from our outsourcers, solve and refine a crystal structure, help with a data collection, and somewhere find time to have coffee and tea breaks and to have lunch!
How long is the placement, and how far into it are you?
I am eight and a half months into a 12 month placement.
Why did you decide to take a placement in the Pharmaceutical Industry?
To help me decide on my career path, to improve my CV and to make some money!
What opportunities have you had, during the placement to find out what it is like working in the pharmaceutical industry?
I feel like I have worked in the pharmaceutical industry. I am always treated as a colleague not a student. I have had a lot of opportunities both through what I do on a day to day basis, and through seeing what a wide variety of other people do from throughout the organisation.
What qualifications and other experience of working in science do you have?
I have completed two years of a chemistry degree at Cardiff University.
Do you think it will be easier to find a job with an industrial placement on your CV?
I think so, and I certainly hope so. I don't expect it to make a huge difference, however I like to think it will tip the balance in my favour if I'm up against a similar applicant.
What do you think you will do when you complete your degree? Has the placement influenced your thoughts on your future career?
I'm still not entirely sure, however my year in industry has undoubtedly opened my eyes to things I may pursue, as well as things I will not! At the moment I am inclined towards the computational side of chemistry.
What is the social life like?
There are about 90 students here with a full leisure club, and clubs for just about every sport. In that respect it has a lot in common with university. I have a good friendly working relationship with all my colleagues, and couldn't be happier in that respect.
What is the best thing about your placement?
The best element about my job is that I am genuinely doing a real, business critical job, with real responsibility and real challenges.
Last modified: 20 September 2023
Last reviewed: 20 September 2023