Industrial Placement Biologist
Industrial Placement Biologist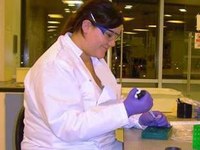 Emma
Industrial Placement Student, at work in a laboratory
There are so many job options open to science graduates that it is hard to decide what to do as a career. Emma
So, what are you doing during your placement?
I work in the Molecular Biology team of the Respiratory diseases department.  My job involves both time in the lab and the office – planning and carrying out experiments, background research and attending meetings.
I have been given a project which involves optimising the expression, purification and characterisation of a specific protein. I will then use this in a primary assay to screen several compounds. My supervisor also involves me in her projects so that I can improve my lab skills further.
What does your typical day involve?
My day varies depending on how many lab experiments I have planned. I could be carrying out cell culture, running a western blot experiment or undertaking a real time PCR experiment. During any free time I have I attend meetings, write up experiments or do some research. The company puts on a lot of extra training which starts with the basics, so I make the most of the knowledge I can get and attend many of these.
How long is the placement, and how far into it are you?
My placement is for a year and I am 4 months into it so far. I am really enjoying it.
Why did you decide to take a placement in the pharmaceutical industry?
I wanted to gain some experience in a job area that I would like to go into after my degree. I am interested in the pharmaceutical industry as the scientists are all working towards helping to treat diseases which may not have a suitable treatment yet. I also wanted to find out how the industry works and to see whether it is something that I would like to do after I graduate.
What opportunities have you had, during the placement to find out what it is like working in the pharmaceutical industry?
I have had plenty of opportunities everyday. I am able to see how the industry works, how each department fits together and what is involved in the job.
What qualifications and other experience of working in science do you have?
I have A levels in Biology, Chemistry and English and have completed two years of my degree in Biochemistry at the University of Kent at Canterbury.
Do you think it will be easier to find a job with an industrial placement on your CV?
Certainly. If you want to work in science, having the lab experience puts you in a much better position to find a job after you graduate. You also gain other skills from working in an office environment with professionals. In fact, it has been said that an industrial placement puts you a 'cut above the rest' in obtaining a job as you have a degree plus a years experience instead of just having a degree.
What do you think you will do when you complete your degree, has the placement influenced your thoughts on your future career?
There are so many job options open to Science graduates that it is hard to decide what to do as a career. I had an idea that I wanted to work in the pharmaceutical industry but my placement has made me sure that I want to advance in this area as a career.
I would really like to work for the company I am doing a placement for now, either by joining the graduate scheme or applying for a job after I do a PhD. I definitely want to go into the pharmaceutical industry.
What is the social life like?
The company has a social club with a gym (which is not too expensive to join) and other clubs such as a football club. Other facilities include a dry cleaner, dentist and several coffee shops which aids colleague interaction, as many people have meetings over a coffee.
What is the best, or worst, thing about your placement?
I didn't have any issues with taking a placement as the benefits far outweigh any drawbacks. For example, others may want to finish university rather than add an extra year on, but without that year you might find it a lot harder to find a job.  Overall, deciding to do a placement was definitely the right decision for me.
Last modified: 20 September 2023
Last reviewed: 20 September 2023