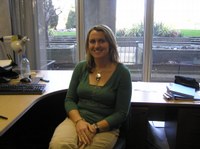 Karen
Human Resources Manager
I support the business from the people side of things, employee relations, team building, team events, salary review and talent management. Karen
​So, what do you do?
I am an HR Manager. I support the business from the people side of things, employee relations, team building, team events, salary review and talent management. There are many specialisms within HR, eg. compensation, training and recruitment, but I am a generalist so I basically cover everything not covered by the specialists.
What does your typical day involve?
I deal with people from a number of different sites so I often have to travel from site to site for meetings.  I have to deal with different requests and individual cases, which will involve with liaising with a variety of people e.g. from the legal team or managers. There are also different annual initiatives throughout the year that need to be prepared for and dealt with, for example at the moment we're involved in salary review and bonus rating. So I'm working with managers to make sure it is fair.
Why did you decide on a career in the pharmaceutical industry?
I studied science A-levels as I wanted to be a physiotherapist but I failed the medical so wasn't accepted on to the course. I didn't know whether to go through clearing and study something else. I was offered a job as a bench scientist for a pharmaceutical company and decided to take it.  I worked there for three years and although I really liked the industry and saw the importance of it I didn't enjoy the specific role I was doing.
What qualifications and experience do you have?
As well as science A-levels I have various HR qualifications which I have studied for during my career.  It was hard to move from the scientific role I had into HR, so I had to leave the industry and got a job as an agency recruiter.  After 10 years a job came up for a scientific recruiter in the pharmaceutical company that I work for now came up and I returned to the industry.
How long have you been in your current role?
I have worked for this company for over 10 years.  I was working for five years in recruitment and then five years in induction training, before I moved into my current role about seven months ago.
What do you like most about your job?
That every day is different. It's not predictable, because you're working with people and people are unpredictable. Running team events which are very positive and you can see that you've made a difference as you've increased team productivity. And you get to go on them!
What do you like least about your job?
Some aspects of the job don't always have a positive outcome.  For example we recently had a reorganisation within the company which resulted in a number of redundancies, and some people who had worked here for a long time didn't want to leave.  So that can be very difficult and it's very wearing.
What are you most proud of in your career?
Designing and developing an induction program for the company.
What possibilities are there for your career in the future?
There is a lot of scope for me to develop skills and concentrate on areas that I am most interested in within my role. There are lots of opportunities for personal development.
What do you think are the most important skills for someone in your role to have?
Good communication skills at all levels. Common sense. Knowing when to ask, and effective use of resources. You need to be the sort of person who can separate your personal feelings from the facts and data and logic.
What one piece of advice would you give to someone seeking a career in the pharmaceutical industry?
Before going from A-levels into a specialised degree that will take you down a particular route try to get work experience in the field to see what it's really like and if it suits you.
The pharmaceutical industry likes you to have studied some life sciences as then you understand what the company does. Most people in HR do not have an HR degree, people come in to HR from a variety of different routes, e.g. some people start out as HR admin and then study for their HR qualifications.  A-levels and a degree do help but are not essential.
Last modified: 20 September 2023
Last reviewed: 20 September 2023