Graduate Trainee In Vivo Scientist
Graduate Trainee In Vivo Scientist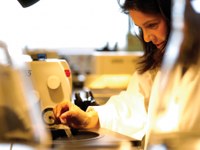 Nazanin
Graduate Trainee In Vivo Scientist
I am on a rotation scheme that my company runs for graduates, which involves moving from one therapeutic area to another over a course of 2 years. Nazanin
So, what do you do?
I work as an in vivo scientist. My role is to help out senior members of the company with running experiments, screening new compounds for treatments for asthma and other respiratory diseases and also be involved in exploratory work.
Coming out of university and not being sure in what area of research I would like to work, I applied to do a rotation scheme that my company runs for graduates, which involves moving from one therapeutic area to another over a course of 2 years, to allow you to experience different techniques and learn about different areas of work. At the end of 2 years, you can either choose to join a particular therapeutic area or you will be allocated to one according to the company's need. Some of the people I have met who started on this scheme have been very successful and been promoted a few times.
What does your typical day involve?
The interesting thing about my job is that everyday is different. Every week we might be working on different projects, but generally it involves reading emails and spending some time at my desk with my computer, working alone in the lab or working in a team. We also have regular meetings where we can express opinion about different things. Also I have the opportunity of attending different courses or classes to increase my knowledge about things I have never come across before. I particularly enjoying watching what other people do in the lab, and finding out about their work, which is really interesting!
Why did you decide on a career in the pharmaceutical industry?
I always wanted to be involved in development of new drugs and treatments for patients, therefore pharmaceutical companies were my first option.
What qualifications and experience did you have when you entered the industry?
Well I have a rather strange background! I got my diploma from Iran, where I was born, and then I moved to the UK and had to decide on my higher education. I knew that I always enjoyed science.  Biology and chemistry always made more sense to me that maths and physics. I knew I didn't want to be a doctor, so I started looking through university prospectus and also I looked at magazines like New Scientist. I looked at the job advertisements and found that geneticists and pharmacologists were in demand! To be honest I also liked their pay package.
I did A Levels in Biology, Chemistry and Maths. During my second year I had a chance to speak to a pharmacologist from the University of Bath and I decided I would want to do pharmacology as a degree. I got my Pharmacology degree from King's College, University of London. I considered doing a PhD in Pharmacology but after talking to some PhD students I changed my mind.
I took a year out to think what I wanted to do. During this year I found out that King's College runs a Masters course called Drug Discovery Skills with a 4 month placement within industry, and also success rate of the course in terms of employment was high! So I went for it and enjoyed every minute of it. With the experience, I applied for my current position and got the job.
Are additional qualifications or experience an advantage for someone wanting to enter the industry?
Definitely! I think without my Master and my placement experience I wouldn't have got the job! Some of my friends that got graduated with me after our BSc are still trying hard to get into the industry and with competition so high you need to have that extra bit on your CV!
What are you most proud of in your career? 
So many things, first of all being able to work on a project that may in future save so many lives! Also I have to say I love the "scientist" title next to my name!
What possibilities are there for your career in the future? 
The company I work for has no ceiling for moving up the ladder, you don't need to have a PhD to be able to move up, so I can move up the research ladder and also take on management responsibilities.
What is it like socially where you work?
We have a gym and a social club on site. They run different kind of activities. Also through email you can join different mailing lists and organise different events. I have got to know a lot of people and you would be surprised how may of them have the same interests as you. In addition I have made friends with the people that started at the same time as me.
What do you think are the most important skills for someone in your role to have?
Practical experience! I remember when we were choosing the project for our placement during my masters; most people were looking for easy projects that involved less lab work. I looked for the one that involved working in the lab and required learning many techniques. Having those techniques I find my job much easier and enjoyable.
Also social skills are very important. You need to able to communicate to different people.
What one piece of advice would you give to someone seeking a career in the pharmaceutical industry?
First of all make sure you know what you want to do. Lab work is not everyone's cup of tea! Read advertisements and look for the skills, qualifications and experience they are looking for, and try to achieve them. If they need industrial experience, contact your career adviser and get help with applying for a placement. You can also look at companies' websites.
Last modified: 20 September 2023
Last reviewed: 20 September 2023