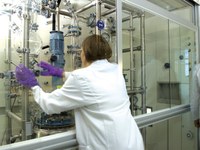 Choose a degree that will give you the opportunity to undertake a period of industrial experience within a pharmaceutical company. Kim
So, what do you do?
I am currently in my first role on a Technical Development Programme. I am currently working as a Process Chemist on a primary manufacturing site. Here we make the active pharmaceutical ingredient before it is sent off to secondary manufacturing for tablet formulation.
My work is quite varied. Lab work can involve optimising and looking for improvements in the plant process already in place and testing raw materials by running through the process in the lab. Process chemists are also used as plant support when introducing a new compound for manufacture or if something unexpected happens on plant. The site is very highly regulated and documentation and report writing is an important part of the job.
How does the graduate trainee scheme work?
I am currently on a Technical Development Programme within Global Manufacturing and Supply. It is a three year scheme designed to provide the individual with a breadth of experience in their chosen discipline. The scheme takes graduates from many different disciplines including chemists, engineers, statisticians and microbiologists to name a few. The first year of the scheme is spent gaining general experience on a primary or secondary manufacturing site or within consumer healthcare. The trainee liaises with the company to choose a placement that will best suit them and their abilities. In the second year the trainee is moved to a completely different site and business division. In the third year the trainee returns to the original first site where they can offer more experience and become more deeply involved in projects.
I was attracted by the scheme because it offered experience in more than just one job. This was handy since I was unsure on graduation exactly which area of chemistry I wanted to work in. The scheme allows me to determine where my strengths and aspirations lie before moving confidently into a more long term job and specific area in chemistry. I hope to gain a breadth of experience in the company instead of depth in one particular area which can of course be gained a little later in my career.
What does your typical day involve?
Over the last 12 months my time has been split 45% laboratory, 45% writing documents and about 10% on the manufacturing plant. Each chemist has a slightly different split depending on what they enjoy and are good at.
A typical day may involve setting up a 0.5L reaction first thing in the morning. The reaction may be to determine whether a new supplier of a reagent is suitable for use or to check a change in parameters to the process. I might then spend the rest of the morning writing up reports or attending meetings. The meetings may involve a discussion of a deviation that occurred on the manufacturing plant. In the afternoon I may receive a sample from plant of the deviated batch discussed in the morning meeting. This batch may need analytical testing. Before the day closes I might add a reagent to the reaction set up earlier that day and ensure it was safe to leave overnight.
Do you work mostly on your own or as part of team?
Laboratory work and writing up data and reports are done individually. However as a chemist I am required to work closely within a multidisciplinary team of other chemists, analysts and engineers. I am allocated to a specific project and I have certain individual or shared responsibilities within.
Why did you decide on a career in the pharmaceutical industry?
I knew I wanted to work within the pharmaceutical industry before I started my degree. I had an ambition to do something that I enjoyed but I also wanted to feel like I was doing something useful that would be directly beneficial to others and would improve the quality of somebody's life.
I worked in R&D within the pharmaceutical industry as an industrial placement student. This meant that I already understood the sort of work on offer. The pharmaceutical industry is an exciting and challenging place to be working due to its highly competitive nature and I knew I wanted to be a part of that.
What qualifications and experience did you have when you entered the industry?
I have an MChem in Chemistry with Industrial Experience, University of Bath. The industrial experience was a 12 month placement which counted towards my degree. I worked as an Analytical Chemist within Research and Development for GlaxoSmithKline.
Do you think additional qualifications or experience would be an advantage for someone entering the industry? What might be valuable?
The industrial experience gained as part of my degree course in the form of a 12 month work placement for GlaxoSmithKline was invaluable. It meant that on graduation I had even more than my degree to offer. I had real hands on experience of how the pharmaceutical industry operates. I also had the opportunity to meet people from many different chemistry backgrounds which was useful in helping me decide the sort of jobs I might (or might not) be interested in.
What is it like socially where you work?
My department consists of many people of all ages and many different cultures. The company encourages a healthy balance between your work life and your personal life and this is reflected in my department. We have frequent nights out and socials and we also mix with other departments on site providing many opportunities for making friends and meeting people.
What are you most proud of in your career so far?
I have been working on a protease inhibitor for the treatment of HIV. A lot of my work involves supporting improvements on plant to increase the yield, reduce impurities and reduce the time taken to manufacture a batch. It is very possible in manufacturing chemistry to see the direct outcome of the hard work you put in. I feel very proud that my everyday work makes the drug more available to the patient and consequently increases their quality of life.
What do you see yourself doing in the future?
After I have completed the Technical Development Programme I intend to gain more depth in an area I have enjoyed the most and I hope to be a team leader within the next five years. I intend to remain firmly rooted within chemistry.
What do you think are the most important skills for someone in your role to have?
Communication is the most important skill to have and to continue developing. My role has a high emphasis on teamwork. Most aspects of my job require me to work within a multidiscipline team of other chemists, analysts and engineers from all experiences. Technical skills whether practical or theoretical need a solid foundation to build on but communication is by far the most important skill.
What one piece of advice would you give to someone seeking a career in the pharmaceutical industry?
Choose a degree that will give you the opportunity to undertake a period of industrial experience within a pharmaceutical company.
Last modified: 20 September 2023
Last reviewed: 20 September 2023