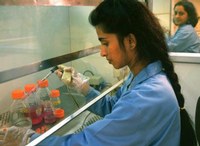 Hamira
Senior Associate Scientist
I have had opportunities to mentor and supervise new starters and am currently supervising an industrial trainee student. Hamira
So, what do you do?
I am a bench scientist working in Drug Discovery. I have been working here for two and a half years, currently working on new treatments for pain.
What does your typical day involve?
Lab work, team meetings and maybe lectures from an outside collaborator or experienced scientist at work.
Do you work mostly on your own or as part of team?
I work as part of a general team, but on an individual target. I generally do my lab work alone, unless I am supervising someone.
How has your career developed since you entered the industry?
I have had opportunities to mentor and supervise new starters and am currently supervising an Industrial Trainee student.
What are you most proud of in your career?
Working on a treatment for HIV – the team I worked with have progressed a compound through to phase III clinical trials.
Why did you decide on a career in the pharmaceutical industry?
I wanted to do a job where I could utilise my science skills usefully – I really enjoyed science as a young student and wanted to continue learning.
When did you make this decision?
It was after my industrial trainee year (year three of my undergraduate degree), I really enjoyed the work at the time and thought it would be a good way to keep using my science skills.
What qualifications and experience do you ?
I have a BSc Hons degree in Genetics from the University of Sheffield.
What qualifications or experience would be an advantage for someone entering the industry now?
Experience is a definite bonus - like spending a year in industry as part of your degree. It can either really motivate you to stay in science (whether academic or industry) or put you off. It'll help you to make your mind up as to whether industry is for you.
What is it like socially where you work?
Good – there are a lot of people who started at the same time as me who were recruited as graduates.
What do you think are the most important skills for someone in your role to have?
Good lab skills, team working and problem solving.
What one piece of advice would you give to someone seeking a career in the pharmaceutical industry?
Try not to take failure too personally - lots of experiments don't work first, second or third time and that isn't generally through personal fault. Be persistent, but also know when it's time to try a different approach.
Last modified: 20 September 2023
Last reviewed: 20 September 2023