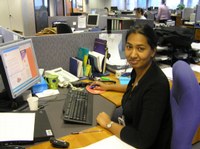 I look at disease trends, identifying individuals who are at risk and analyse the impact of interventions such as drug and vaccination programmes. Usha
So, what do you do?
I look at disease trends, identifying individuals who are at risk and analyse the impact of interventions such as drug and vaccination programmes.
I think epidemiology is quite unique in that it covers most stages of R&D from the beginning – genetic epidemiology identifies potential new targets for drugs – to phase IV clinical trials looking at safety in medicines that have already been launched.
What does your typical day involve?
When I get in I check my emails.  I do a lot of work with the States and because of the time difference we mostly communicate via email.
At the moment I'm on a couple of project teams for clinical trials so I keep a check on their development.  I often have to write protocols for in house studies so I have to get things reviewed and write analysis plans for data analysis.  But it does vary every day, which is what attracted me to the job.
Because I liaise with people in other countries I do get to travel occasionally, I've only been here eight months and I've already been to several places.
Why did you decide on a career in the Pharmaceutical Industry?
I've only been working in the industry for eight months, before that I was working for the government in the Health Protection Agency (HPA) for eight years.  A lot of my work there focused on epidemiology and I really enjoyed that aspect to my role.  So I decided to move into the pharmaceutical industry so that I could focus more on epidemiology. I also wanted something that was faster paced and more challenging.
What qualifications and experience did you have when you entered the industry?
I studied A-levels in Biology, Chemistry and Maths, which I think is a good grounding for epidemiology as I'd say it's 50:50 stats and biology.  At that point I hadn't even heard of epidemiology but biochemistry seemed to cover most of the things I was interested in, so I studied for a degree in medical biochemistry, which has absolutely nothing to do with epidemiology but it gave me a good background of disease and disease mechanisms at a molecular level.
While I was doing my degree I decided I preferred the analytical and theoretical side to science rather than the lab side of things.
While I was working at the HPA I studied for a Masters in epidemiology.
Do you think additional qualifications or experience would be an advantage for someone entering the industry now? What might be valuable?
I did a straight 3 year degree course, looking back I probably would have benefited from doing a years industrial placement.  A PhD will allow you to enter the industry at a higher level and allow you to progress further.
What is it like socially where you work?
Everyone is really approachable and lovely, everyone is willing to help.  I'm a pretty sociable person, I like going out for a drink, to bars, to the theatre and shopping.
What possibilities are there for your career in the future?
My next step will probably be doing a PhD while I'm working to get a more senior role and have more responsibility.
What do you think are the most important skills for someone in your role to have?
Communication is really important in this job; you need to communicate with people at all different levels about all different topics. You need to be confident as you need to be able to present information. You need to be good at generating new ideas.
What one piece of advice would you give to someone seeking a career in the pharmaceutical industry?
Try to get pharmaceutical or relevant experience.  It's a mixture of science and maths so be sure that you are interested in those areas.
Last modified: 20 September 2023
Last reviewed: 20 September 2023