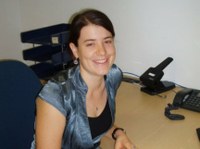 Don't give up looking for a job in industry because when you get one it's very rewarding. Emma
So, what do you do?
I work as a Drug Safety Officer within the Pharmacovigilance Department, where we monitor the safety of post-marketed products and products that are currently in development. I have been doing this job for 10 months.
What does your typical day involve?
I usually work 9 to 5 and spend the morning assessing adverse event reports. I would also do some work on either writing a periodic safety update report (PSUR) or quality checking one that has been written by another safety officer. I would send some case reports to our offices in other countries and may do some entry of adverse event reports onto our safety database. In addition I could be asked to do other pieces of work relating to adverse events or safety reports.
I work within a team but have my own roles and responsibilities to fulfil.
What qualifications and experience do you have?
I have a pharmacy degree from the University of Nottingham. I had completed a 10 week work experience placement but had no other experience of industry.
Why did you decide on a career in the pharmaceutical industry?
I liked the idea of being more involved in ensuring that there were actual drugs available to pharmacists. I also felt that within industry I would have more chances to move up the career ladder or across into other areas of industry. I also preferred the work-life balance I could have compared to hospital and community (both of which I have had experience in).
I decided at University that I wanted to consider a career in industrial pharmacy as I liked the modules relating to industry topics. This was reaffirmed when I arranged a summer placement for myself at a pharmaceutical company. I really enjoyed all aspects of the work I carried out and it was good to meet other pharmacist and hear their opinions of industrial pharmacy.
How has your career developed since you entered the industry?
I have had a lot to learn in a short time and so I have very quickly gained a wide variety of new skills. I've also learnt a lot about how industry operates and the variety of areas within industry.
What additional qualifications or experience would be useful for someone entering the industry?
It would depend on the type of work the person wanted to do. Just being a pharmacist is a very good basis as you have a wide range of scientific skills and a good knowledge of drugs. If someone was interested in the research and development side of industry perhaps a PhD or some research experience may help. I have received lots of training specific to my area as I didn't know anything about it previously, so I wouldn't say anything else was essential.
What possibilities are there for your career in the future?
There are several steps up the career ladder I can take in my current area but I could also move into a different area of industry.
What do you think are the most important skills for someone in your role to have?
Organisation, communication, good team working skills and a willing to learn.
What is it like socially where you work?
Very good. We organise a team event at least once a month and I have made a group of friends outside my department that I socialise with.
What one piece of advice would you give to someone seeking a career in the pharmaceutical industry?
Don't give up looking for a job in industry because when you get one it's very rewarding. You'll gain good career prospects and a great work-life balance. 
Last modified: 20 September 2023
Last reviewed: 20 September 2023