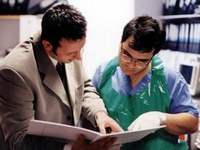 Matthew
Clinical Scientist
I was looking for a job with good career prospects and with plenty of future and present opportunities for learning Matthew
So, what do you do?
I currently work as a Clinical Science Specialist for Phase I/II Clinical Trials. I am responsible for providing scientific input into all the steps involved in the preparation of a study, from planning and set up, to study conduct and production of the Clinical Study Report (amongst other things).
What does your typical day involve?
It is difficult to define a typical day, as each day seems to be different, and this is possibly one of the aspects I enjoy the most.
Why did you decide on a career in the pharmaceutical industry?
I was looking for a job with good career prospects and with plenty of future and present opportunities for learning. I was very keen to find a job which suited my skills and where I could apply and learn about more about science.
As soon as I left my degree I was looking forward to hold a scientific post, but I did not know were to look, and also I was not aware that scientific positions such as my current job were available.
How has your career developed since you entered the industry?
I initially entered the pharmaceutical industry as a production pharmacist, and then, about a year ago, moved to my current position as a scientist in Clinical Pharmacology. I found that the later gave me more opportunities to apply the concepts and knowledge that I learnt during my Pharmacy degree.
What qualifications and experience did you have when you entered the industry?
After completing my pharmacy degree in Barcelona University, I held a few positions in non-industrial posts such as a Retail Pharmacist and Hospital Pharmacist, and then I joined the industry where I gained experience in Quality and Manufacturing.
During my university degree I collaborated with the Pharmacology Department in organizing the laboratory practices which gave me the opportunity to learn about Clinical Pharmacology. Possibly due my interest in this area, I was finally recruited for my current position.
What possibilities are there for your career in the future?
I could become a Clinician Pharmacologist, as a next step in my career and which would involve not only study level responsibilities but also project level.
What do you think are the most important skills for someone in your role to have?
Passionate, team player, good communication skills, scientific approach to resolving problems, quick learner, willingness to share knowledge amongst other things.
What is it like socially where you work?
There are quite a lot of activities outside work for those who want to join, and from time to time we also participate in team building activities. We also have a Gym within the company for those who like to stay fit!
What are you most proud of in your career?
I am just proud to be where I am now, and also I am proud that I do not need to work at weekends any more!
What one piece of advice would you give to someone seeking a career in the pharmaceutical industry?
Industry can offer many and diverse positions (Pharmacology, Clinical Science, Biomarkers, Training, etc.); so focus on the one field you are interested in, then look at what are the requirements for that post and make sure that you receive the further training and gain experience in those areas. 
Last modified: 20 September 2023
Last reviewed: 20 September 2023