Clinical Research Manager
Clinical Research Manager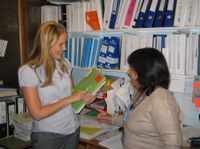 I genuinely hope that everything I do will one day be of huge benefit to patients. Charlie
So, what do you do?
I work as a Clinical Research Site Manager for a large pharma company.  This means that I look after new and ongoing clinical trials, working both from home and within hospitals.
Why did you decide on a career in the pharmaceutical industry?
My first job in the industry was as a sales rep.  I did this straight from university, after getting a BSc Hons degree in Pharmacology. Initially I didn't apply for any jobs whilst still doing my degree – I was somehow able to avoid the "milk round mania".  After graduation I spotted my first job in a student publication and went for it.  Really, I think that part of it was that I didn't know what else I could do.  My careers advice, both at school and university was really disappointing and very limited.
Although my degree was in pharmacology, I knew very early in my studies that being in the lab was not for me!  I suppose the prospect of a car, a laptop and a mobile phone was very exciting to a poor student, so the move into pharmaceutical sales seemed an obvious one.
How has your career developed since you entered the industry?
After a period in Sales I felt frustrated that all that knowledge from my degree wasn't being desperately stretched, so when I met up an old university friend who was a CRA I was really excited about the prospect of a new job.  I love meeting new people every day, working from home and being independent, and my job offers all of this.
What does your typical day involve?
If I'm going to a site, I may have to get up pretty early!  My furthest site is around 180 miles away, but the majority of my work is within an hour's drive or so.  However most sites make me a cup of tea upon arrival!
I'll arrive at site with my laptop and spend some time with the research nurse and the investigator, discussing how recruitment's been going, any issues or successes they have had since my last visit, and any potential issues that we need to report to our drug safety group urgently (i.e. study patients being hospitalised etc.).  I am in close regular contact, usually by e-mail, with all my sites in between visits. I'll then spend time going through the (often quite extensive) study documentation, checking that everything's been completed and looks accurate – after which I'll check the study data against the dusty hospital notes.  Once I'm happy, I'll whip the paperwork away (or submit it online if we're using an electronic data capture system).
Do you work mostly on your own or as part of team?
It's a real mixture.  I have a home office (in an upstairs bedroom!) that I work in usually for 2 days a week. The rest of the time I'm out at the investigational sites, working with the research nurses and the consultants (investigators).  I am part of the regional monitoring team at my company – we all meet up maybe once a month on average, often for training. More importantly, I really feel that I am a key part of the study teams at the sites.  It's possible to forge really excellent working relationships with both the nurses and the investigators – we all have a common goal and this really brings folks together.
What is it like socially where you work?
It's variable as I spend my time both at home, in our company office and out at site. I occasionally feel a bit isolated from the crowd as I work regionally, but we always take advantage of meetings and training sessions to catch up with each other, and I'm generally on the phone to at least 5 different colleagues every day!
What are you most proud of in your career?
That's an easy one!  I actually feel that I am making a difference (in the wider sense) every day I'm at work.  Even though I work for a commercial organisation, I genuinely hope that everything I do – alongside the study teams at site – will one day be of huge benefit to patients.  I have a large number of oncology studies and just to know that your investigational product might have given someone an extra month with their family means everything.
And in all therapeutic areas there are people whose quality of life, or sense of wellbeing, or even perhaps relationships with friends and family, can be improved with the right medication.  In this world of profits and targets it's really easy to forget all this.
What possibilities are there for your career in the future?
From my current job, the usual route most folks take is into project management – looking after studies either within the country or globally, working with a team of monitors.  Alternatively, I could become a CRA manager – looking after the team of regional monitors. There is also the possibility to progress into something more specialised – like performing feasibilities at the start of new studies to ascertain which would be the best sites for the study.
What do you think are the most important skills for someone in your role to have?
I think with a good basic science background, the main skills required are the ability to work independently; the confidence to present protocols or training sessions to site staff; some focus on attention to detail, and the ability communicate well with those you work with internally – especially if you are regionally-based.  I don't think I had these skills to any great extent when I started in the job, but as long as you're willing to learn, you soon get there.
What one piece of advice would you give to someone seeking a career in the pharmaceutical industry?
Do research into the different companies before applying for jobs. There's a huge variation in "ethos" between the smaller and larger companies, and also between the pharma and contract houses. You will soon find a company that suits your style and ambitions for the future.
Last modified: 20 September 2023
Last reviewed: 20 September 2023