Clinical Research Analyst
Clinical Research Analyst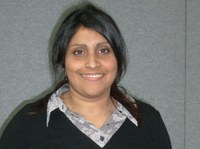 Dilly
Senior Clinical Research Analyst
I work in the Clinical Pharmacology Unit, co-ordinating laboratory tests for clinical trials. Dilly
So, what do you do?
I work in the Clinical Pharmacology Unit, co-ordinating laboratory tests for Phase I clinical trials.
What does your typical day involve?
On a typical day I would spend my time reading a study plan, coordinating lab activities, writing sampling instructions and ensuring samples have been sent to different research organisations. I am likely to also have to attend meetings and might carry out staff training.
How has your career developed since you entered the industry?
I started a two year apprenticeship when I was seventeen. I was then offered a permanent job in safety assessment working in the Histology laboratory. I stayed there for fifteen years, I then felt I had gone as far as I was going to go with my job and then decided to change.
Why did you decide on a career in the Pharmaceutical Industry?
I worked in the summer in the laboratories and enjoyed that. The apprenticeship meant that I was able to study and earn money at the same time, furthering my education by
What qualifications and experience do you have?
I left School with GCSEs. During my two-year apprenticeship, I did an ONC in Biology. When I joined Histology I continued and did an HNC in Biology and then an honours degree in Biological Sciences at Manchester University.
Do you think additional qualifications or experience would be an advantage for someone entering the industry now? What might be valuable?
I feel now, as there are so many graduates, that you need to stand out by obtaining an MSc or PhD. But that is purely my own opinion.
What possibilities are there for your career in the future?
I could become a study delivery leader, then study delivery coordinator and eventually drug safety coordinator.
What do you think are the most important skills for someone in your role to have?
Good organisation skills and communication skills.
What one piece of advice would you give to someone seeking a career in the pharmaceutical industry?
Gain some work experience to see if it is really what you want to do.
Last modified: 20 September 2023
Last reviewed: 20 September 2023