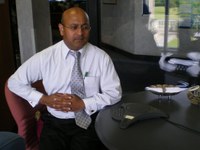 Panni
Clinical Data Manager
I'm not just making a living but I'm making a difference, helping to develop new medicines. Panni
So, what do you do?
I'm involved in the late stage of drug development, Phase I to Phase IV of clinical trials, and all the way through to submission of our drug to the regulatory authorities.
My main role is around resource management. I lead project teams, negotiating with contract research organisations so that the company can manage its work load. I liaise between our company and those organisations.
What does your typical day involve?
I attend a lot of meetings where we discuss issues and solutions to those issues, making sure things are progressing according to the timescale, especially with the external suppliers. I need to make sure that the two organisations are working well together.
I tend to get in to work for 9ish and leave around 6.30 but, seeing as the core of my work is done on my laptop, I do tend to log on at home in the evening when the kids have gone to bed. A lot of my work is done through emails, without my laptop I feel naked!
I have often have to travel to other sites, and occasionally abroad, to meet with various different people.
How has your career developed since you entered the industry?
I started in the pharmaceutical industry and this company about 13 years ago.  For 10 years I worked in data management, collating and analysing clinical data and then about 3 years ago I fancied a change and moved away from actually handling and processing the data and got into my current role.
What qualifications and experience did you have when you entered the industry?
I took A-levels in Maths, Computing and Physics. I then went on to do a 4 year sandwich degree in computing and statistics. My year placement was with the British Geological Survey, which involved analysing, managing, cleaning and computerising the data.
Why did you decide on a career in the Pharmaceutical Industry?
After my degree I didn't know what I wanted to do. I saw the job advertised with this pharmaceutical company which involved managing clinical data and I thought it sounded very similar to the work I did during my Year in Industry, using the same skills and principles just a different discipline. And as I really enjoyed the work I did in my year in industry I thought I would enjoy that. To be honest I'd never considered a career in the pharmaceutical industry, I was just desperate for a job and was applying for any job that sounded interesting; I was offered the position in data management and so took it.
What are you most proud of in your career?
I'm proud to have a career in this industry; a career that I can say is advancing medicine and making people's lives healthier.  I'm not just making a living but I'm making a difference, helping to develop new medicines.
What possibilities are there for your career in the future?
I would like to have a secondment abroad, maybe to the US.  I have to travel occasionally and I really enjoy that, but I would like to have an actual long term project to run in another country.
What do you think are the most important skills for someone in your role to have?
The ability to communicate, and work with different people from lots of different cultures. Technical skills, such as knowing the clinical drug process and regulatory environment, are obviously key. You need to be highly computer literate, so to be able to use computer data management systems.
What one piece of advice would you give to someone seeking a career in the pharmaceutical industry?
Get a good education!  Get a good degree. Once you're in the industry work hard and continue to refresh and develop your skills.
Last modified: 20 September 2023
Last reviewed: 20 September 2023