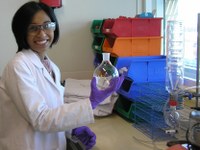 Stephanie
Research Chemist
My experience of doing a Nuffield Bursary encouraged me to do an MChem degree. Stephanie
So, what do you do?
I work at the early stage of drug discovery. I work closely with biologists to identify a molecular target and then I design compounds that will interfere or interact with the target or disease mechanism. For example, if the disease is due to something overworking, we will design an inhibitor to block it. If something is not working, we will design an agonist to stimulate it. My work involves researching into work that has already been done in this area, and then look at compounds that already exist and work out how I can make new compounds that may interact.
I thought medical research was really interesting, so applied for a Nuffield Bursary placement which involved carrying out a 6 week project during the summer holidays between the lower and upper 6th. The experience of working with experts, carrying out cutting edge science and using different technical equipment really excited and appealed to me, and it was then that I decided to go for a career in this industry.
What qualifications do you have?
I studied A-levels in Maths, Physics, Chemistry and German. The Nuffield Bursary experience encouraged me to do a MChem degree at Warwick University. It was a 5 year course which involved a year in industry and a year to do my masters.
What does your typical day involve?
Generally I start work at about 9 and check any outstanding emails and deal with those. Then I go into the lab for about an hour, then we all go for a half hour tea break, then back in the lab. After lunch I'm back in the lab again for the afternoon till about 6, with another tea break squeezed in! So my day is predominantly in the lab, but some days I might have a presentation to write, or meetings, or research to do, so it does vary, but at my level it's mostly in the lab making compounds.
Do you work mostly on your own or as part of team?
Working in the lab generally I'm working on my own, but I work very closely with the other members of my team, we'll constantly discuss what we're doing and offer each other advice. There's quite a few of us who work in the lab so there's lots of chat about what we're all doing.
What is it like socially where you work?
I love the atmosphere of where I work. We're quite a young group so that means we're very sociable. As well as colleagues we're also friends, which makes it a pleasure to go to work in the mornings.
What are you most proud of in your career?
At first you come in at the graduate level and you're really in awe of other people as you're not very good and don't have much experience, but it's surprising how quickly you learn. I get a real buzz when someone asks me how to do something and I'm able to show them and help using my experience, it makes me very proud.
What possibilities are there for your career in the future?
I would like to take on more of a supervisor's role. I've already started helping out with industrial placement students in the lab. As I'm getting more experience, I think I'll be able to take full responsibility for another person, showing them what to do and mentoring them.
What do you think are the most important skills for someone in your role to have?
Apart from the obvious technical skills, I think it's vital that you're able to work as part of a team and are able to communicate effectively. It's no good if you're good at what you do but you can't tell people about it or share the information with other people. It's also important that you're able to show other people the ropes, we get a lot of students who come in and a big part of our job is guiding them and sharing our experience with them.
What one piece of advice would you give to someone seeking a career in the pharmaceutical industry?
I'd advice them to get as much experience as possible. It is possible, I know it seems hard if you're at school and you're not sure how to go about it, but there are links, especially with large pharmaceutical companies. Even if it's just speaking to someone who works as a chemist in the pharmaceutical industry, by speaking to them it will give you an idea if it's something you'd be interested in.
There are so many different fields and aspects to research chemistry that you need to get out there and try as many different things so you can find out what suits you and what doesn't.
Last modified: 20 September 2023
Last reviewed: 20 September 2023