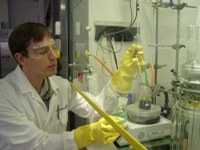 Alan
Associate Principal Scientist
A research chemist needs to have excellent laboratory skills, an in-depth knowledge and understanding of organic chemistry, and a love for science. Alan
So, what do you do?
My role is split between working to develop safe, scalable and cost-efficient processes for producing APIs (Active Pharmaceutical Ingredients), and helping to build capability in my organisation with regards to this task, either through training or the introduction of new technologies.
What qualifications and experience do you have?
I did a BSc (Hons) in Chemistry, at the University of Strathclyde which included a sandwich year with Pfizer. After this I did a PhD in Chemistry at Cambridge University, followed by postdoctoral research at the University of California. I then returned to the UK and have been with my current employer for ten years.
What does your typical day involve?
In my current role as Associate Principal Scientist: Mostly meetings with some labwork sandwiched in here and there.  I work a lot with people on different sites and in different companies and this means a lot of telephone conferences.
In my previous role as Senior Scientist: Before starting in the lab each day I spend about 90minutes in my office, catching up with emails and reading the chemical literature. For the rest of the day, until about 6pm, I am usually performing experiments in a laboratory, though I break for lunch for 45min.
Two or three times a week I have meetings associated with my project, or, less frequently, departmental business.  I usually have numerous discussions each day with my line manager. These deal with my project or activities that raise my profile within the department.
How has your career developed since you entered the industry?
I have been given increasing amounts of responsibility for coaching younger members of the department.  I have also had the chance to help organise seminars held within the department involving external speakers.
More recently I have performed a number of secondments, including a stint working in a pilot plant and some time providing technical support to the APIs that are already on the market.  A year ago, I was promoted and now I only spend a proportion of my time directly supporting drug projects.
Why did you decide on a career in the pharmaceutical industry?
I was lucky enough to undertake a sandwich placement as a medicinal chemist whilst an undergraduate.  This opened my eyes to the challenges faced by pharmaceutical scientists.
As I was doing my PhD I became increasingly disillusioned with academia, but wanted to continue doing chemical research. I wanted the opportunity to apply the technical skills I had acquired during my PhD and postdoc to high risk, high reward projects which ultimately may yield drugs that can make a real difference to a person's quality of life.
Do you work mostly on your own or as part of team?
I work as a part of a number of teams.
What is it like socially where you work?
There are lots of sports groups. Within my department there is also a lunchtime bridge club, a reading group and a craft group. We also go out for curries on a regular basis.
What are you most proud of in your career?
Being named one of the 'Leading Chemists of the Next Decade' at a symposium held at Roche (Basel).
Also, I helped to develop the processes used in the manufacture of a drug for opioid-induced constipation that is now on the market.
Do you think any particular qualifications or experience would be an advantage for someone entering the industry now?
The people I work with are either specialists or generalists. Whilst you can develop as a specialist through on the job training, prior experience in that particular field would help. For a generalist, additional experience is not so important but he/she should be willing to pick up skills in a variety of different areas, rather than developing solely as a synthetic chemist.
Big companies can afford to train employees in areas that are of secondary importance to their core activities, and are more likely to hire someone based on their long-term potential. Smaller companies need scientists with prior experience of the drug discovery process so that when they start, they are 'up to speed' with the job from day one. In the second case, a job seeker with prior experience of the technologies used everyday in pharmaceutical research and development will always have an advantage.
What possibilities are there for your career in the future?
I would like to think that I would be able to undertake further secondments in different functions, and to spend some time managing a team.
What do you think are the most important skills for someone in your role to have?
Treating each day as if it was your first in the job, being open to new ideas and not being afraid to take on new challenges. It is also important to have excellent laboratory skills, an in-depth knowledge and understanding of organic chemistry, and a passion for science.
What one piece of advice would you give to someone seeking a career in the pharmaceutical industry?
If you are interested in a role in a particular part of a business do whatever you can to spend some time visiting it, performing a placement there or developing contacts with those that work there. Learn about the challenges these people face in their role. Not only will you work out if the role is for you, but your job application will be reviewed much more favourably.
What's the biggest difference between working in academia and the pharmaceutical industry?
The science in the pharmaceutical industry can be applied in nature as its scientists are trying to bring products to market, whilst the science in academia is on the whole trying to answer more fundamental questions.
Last modified: 20 September 2023
Last reviewed: 20 September 2023