Business Engagement Director
Business Engagement Director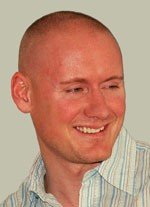 Jason
Director, Business Engagement
I work within a team who develop business strategy, lead and manage business change and measure our business performance against our business strategy. Jason
So, what do you do?
In simplest terms, I ensure my colleagues have the information they need and opportunities to understand that information in personal terms so they are best able to deliver on our business strategy.
I work within a larger team who develop the business strategy, lead and manage business change and measure our business performance against our business strategy. Together we support the research and development (R&D) clinical development business worldwide. Ultimately, we help create an environment where individuals understand what we aim to achieve as a business and how they can help contribute to achieving our business goals.
What does your typical day involve?
My days are incredibly varied. On a single day I might be helping to facilitate a town hall for the head of our department, writing a news article, and leading a strategy and planning meeting and coaching one of my direct reports on one of their projects.
Some of my work is focused on tangible deliverables, so I spend some time writing, developing slide packs for presentations or creating videos. Mostly, however, I spend my time creating strategy and then defining actions to achieve the strategy. This typically involves leading meetings or workshops to agree what we need to achieve, then developing plans to help us get there.
I also help develop and deliver engagement sessions, which involves creatively designing an agenda built around dialogue-based discussion.
Because of my subject-matter expertise, I also spend time coaching and mentoring my own team, leaders and others in the business both on strategy development or tangible delivery.
Just like everyone else, I also spend time every day reading and answering emails!
Do you work mostly on your own or as part of team?
I mostly work as part of a team. I lead my own team, but work across the organisation as part of many teams.
How long have you been in your current role?
Ten years.
What qualifications and experience do you have?
I have an undergraduate degree in Marketing, an MSc in Exercise Physiology and an MSc in Cell and Molecular Biology.
When and why did you decide on a career in the pharmaceutical industry?
After graduate school, I was considering a number of options since my educational and experiential background allowed me to have choice. I didn't really choose the pharma industry, but was attracted to a role that happened to be in a pharma company because it felt like a good fit.
How has your career developed since you left university?
After graduating university, I worked for four years in communication-type roles for non-profit and educational organisations. While interesting, I decided to go to graduate school to study science and had the benefit of trying teaching and bench research while in school. Ultimately, I decided bench research wasn't for me, so finished graduate school with the intention of either working as an exercise physiologist or to move back into communications.
After joining this company as a communication specialist for a group of about 400 people focused on early phase clinical research, I have had a lot of opportunity to grow professionally. Now I focus more on employee engagement, lead a team and work with a global audience of up to 4 to 5,000 depending on the particular project. I also was able to move to the UK from the US with my job six years ago, so I now have the experience of living and working abroad. 
Do you think additional qualifications or experience would be an advantage for someone entering the industry now?
I think the path I followed provided the right background required, so I don't think any additional qualifications are required. However, gaining some experience in a corporate environment might have lessened the bit of culture shock I personally experienced!
What is it like socially where you work?
It's as social as you want it to be, really. I've met some great people, many of whom I consider friends. Although it can be quite intense just like any corporate environment, there is also a desire to connect with one another and keep things a bit fun.
What are you most proud of in your career? 
Since my area of focus and my passion really resides in creating clarity and understanding for people, I am most proud of affecting the culture of the groups I've worked with so that they embrace ways of working that naturally lead to more openness, better communication and more opportunity for understanding.
Just like my colleagues, I am also proud of the fact that I support the development of medicines that have real impact to the lives of people worldwide.
What possibilities are there for your career in the future? 
Employee engagement is a growing field, so I hope to be part of defining what's next in the field as part of my career. Aside from contributing to my field in general, my skills aren't tied to any particular industry or company so I can decide to make a change in industry/company. I have personally advanced in terms of job grade and responsibility, and it's possible to continue to do that as I continue to build my skills.
What do you think are the most important skills for someone in your role to have?
In order to be effective, you have to be someone who is passionate about connecting people and building relationships. You must be personally agile; able to embrace change, understand it and respond to it quickly while figuring out how to bring everyone along with you.
You have to be a good communicator, both written and verbal. You must write well and be willing to learn how to authentically present yourself to groups of five to 500. Lastly, you have to be an effective coach for others who always need help when communicating and engaging.
What one piece of advice would you give to someone seeking a career in the pharmaceutical industry?
Make the choice because you want to develop medicines for patients who need them and keep that as your touchstone and foundation.
Last modified: 20 September 2023
Last reviewed: 20 September 2023