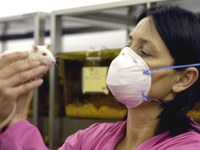 Louise
Animal Technologist
I am responsible for the health and welfare of laboratory animals and for training junior animal technologists. Louise
So, what do you do?
I work as part of a large dedicated team and am responsible for the day-to-day care of laboratory animals. I also assist scientists with their experiments involving the animals in my care. My job role is really varied and I also help with the daily running of the animal facility and mentoring and training junior technicians.
Why did you decide on a career in the pharmaceutical industry?
After completing A-levels I didn't want to go to University but did want a rewarding career working with animals. When I saw an advert for an Animal Technologist position it seemed like an ideal job.
What qualifications did you have?
A-Levels, and work experience in a couple of local veterinary practices.
How has your career developed since you entered the industry?
There are plenty of opportunities for career development as an Animal Technologist. At first my main responsibility was animal husbandry duties, including cleaning out, provision of food and water and completing detailed animal health checks. As my career developed, through training and gaining Institute of Animal Technology qualifications, my role became more varied and I was given more responsibility and independence to work without supervision.  I was granted a Home Office personal licence and began helping scientists with experiments.
I also started using my knowledge to train and mentor other animal technicians, developing their knowledge and skills and assisting supervisors with running the animal facility. During the 8 years I have worked here I have been promoted three times and I have achieved BSc Hons degree level qualifications.
Do you think additional qualifications or experience would be an advantage for someone entering the industry now?
The minimum qualifications are GCSEs or equivalent, preferably with a C grade or above in Maths, English and Science as this helps with completion of the Institute of Animal Technology qualifications, but most people have A levels, and some have a relevant degree. Any previous experience working with animals is also going to be useful.
What is it like socially where you work?
We have regular social events organised by the department which are well attended and enjoyable occasions.
What are you most proud of in your career?
Feeling that each day I make a valuable contribution towards the development of new medicines through caring for laboratory animals.
What possibilities are there for your career in the future?
It is possible for my career to either become more technically based, concentrating on helping with experiments, or more management based with increased involvement with training and developing other members of staff.
What do you think are the most important skills for someone in your role to have?
A caring attitude and desire to work with animals is essential. Flexibility and dedication is also important. Good communication and organisation skills are also really important in ensuring the team works well together.
Last modified: 20 September 2023
Last reviewed: 20 September 2023