Analytical Chemist (Discovery)
Analytical Chemist (Discovery)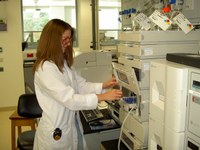 I think, in my company, if someone is keen to learn, and willing to work their way up, it isn't essential to have experience or higher level qualifications. Marie
So, what do you do?
I work as an analytical chemist in the Analytical Technologies group, which is part of Discovery Chemistry.  I develop analytical and purification methods using chromatography to purify compounds before they go through to biological testing.
What does your typical day involve?
We are a service group so I have to check the submission system to see what samples are in; then I will either start developing a method so a sample can be purified, or I will start purifying a sample.  I have to multi-task so I can get as many samples run during the day as possible, without losing any quality.
It is difficult to plan my day, as someone may have an urgent sample, or a sample may not behave as expected when I start purifying it.  I may have to run instrument checks to ensure the instrument is working correctly, if it's not working I have to try and fix it, or log a call and wait for an engineer from the manufacturer to come and fix it.
Sometimes I have meetings or courses with the rest of the department, or with external visitors, or could be involved with projects that are to do with something other than chromatography.
How long have you been in your current role?
I've been in this particular role for 6 years.
How has your career developed since you entered the industry?
I joined the company straight from school, after taking A-levels in Biology, Chemistry, Geography and General Studies. I started off in Spectroscopy, as a technician.  I ran NMRs, IRs and LC-MS (liquid chromatography- mass spectroscopy), and learnt to interpret the spectra.  I then moved into Chromatography, where I started to learn about achiral and chiral purification.  I ran an open access service for Chemistry whereby chemists could come and purify their own samples achirally, I had to keep the instruments up and running, provide training and advice to chemists, and troubleshoot when necessary.
Soon after I started my job I began a Masters degree in chemistry, which took me 5 years to complete.  I have been able to go to several conferences both in the UK and abroad, at one of which I presented novel work.
Do you think additional qualifications or experience would be an advantage for someone entering the industry now? What might be valuable?
It depends on the person, I picked things up very quickly, and received excellent on the job training.  I think, in my company, if someone is keen to learn, and willing to work their way up, it isn't essential to have experience or higher level qualifications.
What is it like socially where you work?
There is an active sports and social club. People play badminton, tennis and football together, and there is a pilates class. Apart from sports activities, it offers everything from learning Spanish or wine appreciation, to trips to the theatre and go-karting. There are big parties at Christmas and in the summer.  You can take part as much or as little as you wish.
What are you most proud of in your career?
I am really proud to have been promoted 5 times in 8 years as well as obtaining my Masters degree in Chemistry whilst working at the same time.
What possibilities are there for your career in the future?
I could choose to go up the managerial or technical ladder. If I choose to become an expert in analytical science I could take on responsibility for  supervising or mentoring someone. I could also be transferred to our research sites in Spain or the United States.
What do you think are the most important skills for someone in your role to have?
Very good organisation and communication skills are essential, together with IT literacy. It is important to be eager to learn, and willing to ask for help. But the most important skills are being able to be efficient and effective.
What one piece of advice would you give to someone seeking a career in the pharmaceutical industry?
The pharmaceutical industry is quite competitive and fast-paced, so it is useful to understand what goes on in other areas within a pharmaceutical company as well as knowing about the role you want to do.
It can take up to 10,000 compounds to be synthesised to produce one drug, and so people must be prepared to focus on small achievements and not be despondent that they don't get immediate results. If you want to get a lot out of your career then you have to be prepared to put a lot in. Dedicated, enthusiastic and effective people will be noticed and therefore promoted.
Last modified: 20 September 2023
Last reviewed: 20 September 2023