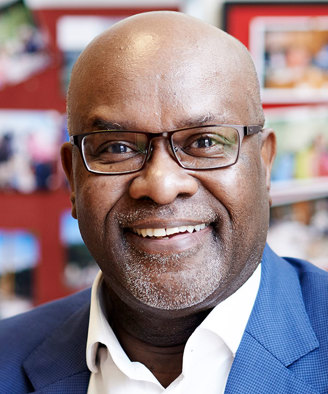 Since 2013, John James has been the Chief Executive of the Sickle Cell Society, a national charity dedicated to helping people living with sickle cell reach their full potential. Under his leadership the Society has seen significant growth and achievements.
The Society recently beat more than 350 organisations from all over the UK to be one of the eight winners of the 2018 GSK IMPACT Awards, a national award that recognises charities that are doing excellent work to improve people's health and wellbeing.
John James was awarded an OBE for his services to sickle cell disorder and health as part of the 2018 Queen's Birthday Honours. John James OBE has had a long and successful career working for the health and charity sector.
• He has 33 years of experience within the NHS including 4 CEO roles
• He was Chair of the West London Cancer network (2002-2005)
• Chair of the North West London Diabetes Network (2003-2004)
As a senior civil servant for the Department of Health he served as:
• Program Consultant on leadership for the NHS Next Stage Review
• Deputy Director for the NHS Medical Director/Director General.
Last modified: 20 September 2023
Last reviewed: 20 September 2023