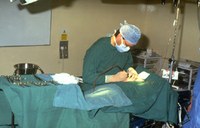 I feel like I'm making a contribution to improving the health of both people and animals... because most of the drugs used in humans are also used in animals. Wendy
So, what do you do?
I have been working in the pharmaceutical industry as a veterinary surgeon, for three and a half years.  I am part of a team of 10 vets looking after the care and welfare of the animals used in research.  I give advice to the scientists on procedures they want to use on animals and anaesthesia and pain killers, to ensure we cause the least amount of distress to the animal.
What qualifications and experience do you have?
I decided I wanted to become a vet when I was six.  So I made all my subject choices at school based on becoming a vet! People told me it would be hard to get into, but I liked the challenge. I studied Physics, Biology, and Chemistry A-levels, physics wasn't my strong point, so I had to spend a year retaking my physics A-level to get into vet school.  During that year I worked on my family farm and as a veterinary nurse, which was really helpful as it gave me an insight into both the positive and negative aspects of the job, and gave me experience to prepare me for vet school.
I went to vet school at London University for five years.  I followed this with a PhD at a London Medical School researching into diabetes and heart disease.  From there I had the opportunity to go to the University of Georgia working in their vascular unit researching human and animal diseases for two years.
Why did you decide on a career in the Pharmaceutical Industry?
I became interested in veterinary, and medical, research during my veterinary degree. As part of my degree I did an intercalated BSc, basically it meant taking a year out to do a BSc, part of it involved a research project, which I thoroughly enjoyed.  So I guess it was during my training that I decided I wanted to go into research.  I was in America when I saw the advert for this post which had all the components I was looking for so I decided to go for it.
What does your typical day involve?
There's not really a typical day.  I'm responsible for two particular disease areas, and every week I do what we call a clinical round, where I chart and record the progress of each animal.  On an ad hoc basis the animal technicians who look after the animals daily also contact me if they have any concerns about the health of the animals.  Some days I can be in the animal units for the whole day, other days I may not go in to the unit at all.
The other side to my job is working with the scientists. Quite a lot of research into medicines uses animal models of disease; for example animals with high blood pressure will be used to look for medicines that will lower blood pressure. If scientists want to change a model, or want to use a completely new model, I'll discuss with them how they should do it, which animals would be most appropriate to use and how to minimise the number of procedures on an animal.  Surgery is sometimes needed on an animal; for instance if we need to take a lot of blood samples from an animal, a catheter would be inserted so that samples can be taken without having to restrain the animal each time. I perform, and train people in surgical procedures.
Also there must always be a vet on call 24/7, so we take it in turns.  You are on call for one week, during which you must always be within one hour of the animal unit and can be contacted at any time.  It's not very often though, last year I did about nine weeks on call over the whole year.
Do you work mostly on your own or as part of team?
In some respect I am always working within a team – with animal technicians, scientists, and the other vets.  But I suppose 20-30% of the time I'll work on my own, for instance doing research into refining techniques and procedures.
What are you most proud of in your career?
It sounds a little simplistic, but I feel like I'm making a contribution to improving the health of people, and ultimately animals as well, because most of the drugs used in humans are also used in animals.
What don't you like about the job?
Although it is really important that everything we do is carefully regulated by the Home Office, with licences for all procedures, sometimes it can be frustrating. For instance some things you want to do will improve the situation for the animals, but you can't introduce it straight away. But safeguards like that are needed.
What possibilities are there for your career in the future?
As with a lot of professions career progression is really around my own professional development. In this job there is a lot of opportunities to go on courses and gain further qualifications and specialise in particular areas of interest.
What do you think are the most important skills for someone in your role to have?
Well there's the professional skill set, which is focused in the laboratory animal field and needs medical and surgical expertise.  And then there's the people skills set. You are in a position where you're advising people, and you may need to tell people things they may not want to hear, for example if a study is compromising the welfare of the animal you need to tell them to stop the study which might be crucial to the development of a new drug. That can be very difficult, but you are there to safeguard the welfare of the animals.
In addition to that I think you need to be willing to communicate with people about what you do. There is a large group of people who, I believe, are misinformed about what we do and who aren't prepared to listen to factual information, so you need to be proactive and talk to them, telling them what you do and why. You need to be quite resilient as you will get some flack!
What one piece of advice would you give to someone seeking a career as a vet in the pharmaceutical industry?
Suck it and see!  Get some experience, you really need to understand what you are getting in to, so come and spend some time within the industry. For instance there are a number of scholarship programmes for veterinary students to gain some experience. Alternatively, If you can't spend time in a company, then speak to someone who works within the field.
Last modified: 20 September 2023
Last reviewed: 20 September 2023