Toxicologist (Contract Research)
Toxicologist (Contract Research)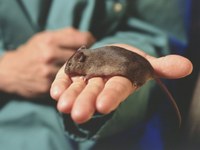 Bill
Contract Research Toxicologist
I have been very lucky to found an area of science that I enjoy, which I feel I'm making a difference for future generations. Bill
So, what do you do?
I work for a Contract Research Organisation as a Scientific Manager.  I co-ordinate projects involving general and acute toxicology and undertake role as Study Director.
I am responsible for the design, management and interpretation of general toxicology studies for mainly the registration of pharmaceuticals and on occasions for agrochemicals.  An appropriate study is designed that will fulfil the objectives of the guidelines set forth by international regulatory authorities which will highlight associated toxicity with that class of compound.
Now with over three years experience as a manager I am responsible for the development and management of a team of toxicologists.  I attend many scientific meetings each year in the UK and worldwide to keep abreast of the scientific literature and to establish and maintain links with scientific experts.  As a Registered Toxicologist I also assist in a consulting role for our Phase I clinic.
What does your typical day involve?
There is no typical day that's what makes the job so interesting although can be frustrating on occasions.
How has your career developed since you entered the industry?
I started as a Study Supervisor (trainee Study Director) in Toxicology at a contract research organisation (CRO) and within three years I was promoted to Study Director.  Following six years there I moved to the company I currently work for as a Senior Study Director. I was given more responsibility and then, on completion of professional qualifications three years ago, I was promoted to the role of Scientific Manager.  Within this role I also act as a consulting toxicologist for our Phase I clinic.
Why did you decide on a career in the pharmaceutical industry?
By accident!!  On completion of my degree in Microbiology from Leeds University I was unemployed for approximately one year before starting a MSc in Toxicology at Surrey. On completion of the masters I went to work at the FSS in Birmingham to set up the DNA database as there were few jobs in the field of toxicology at the time. The masters course was however a stepping-stone for employment within a CRO.  Following a successful application for the role of Study Supervisor I moved into the field of toxicology and I have never looked back!  
What qualifications and experience do you have?
I have an HND in Applied Biology from Bristol Polytechnic, then went to Leeds university and did a degree in Microbiology. As well as my Masters in toxicology I have an International Diploma in Toxicology (IDT) and a Diploma from the American Board of Toxicology (DABT)
Do you think additional qualifications or experience would be an advantage for someone entering the industry now? What might be valuable?
Holding a masters degree certainly put me a head of graduates with just a bachelor's degree. I know certain large pharmaceutical companies look for graduates with a PhD although for a role as a Study Director within a CRO a PhD is not required.  As a Manager looking at potential new graduates wanting a career in the contract research organisation, a Masters in toxicology will put that individual at the top of the pile.
Do you work mostly on your own or as part of team?
A Study Director in toxicology within a CRO will work within a multi-disciplinary team.  Working closely with other scientists of other disciplines is vital to fulfil the conduct of a successful toxicity study.
What is it like socially where you work?
Being part of a large organisation there is a lively social program of events.
What are you most proud of in your career?
Leaving Leeds University with a 2:2 without employment I have been very lucky to found an area of science that I enjoy, which I feel I'm making a difference for future generations. Gaining professional qualifications (IDT and DABT) in my own time has now enabled me to further my career in the field of toxicology.
What possibilities are there for your career in the future?
I am now a Scientific Manager and the next step would be a head of a department. However, I will probably move to a role of consulting toxicologist.  There are many opportunities for toxicologists with a CRO. Generally, once a graduate has gained three to four years experience developing an understanding of toxicology testing studies within a CRO then these individuals will move into the pharmaceutical sector.    
What do you think are the most important skills for someone in your role to have?
A Study Director needs to be patient, efficient, learn from mistakes, a good communicator and multi-task in order to manage a number of toxicity studies at any one time.
What one piece of advice would you give to someone seeking a career in the pharmaceutical industry?
The pharmaceutical industry is a large sector. There are many areas within the industry, from drug discovery, research and development, regulatory, medical, drug safety/pharmacovigilance, biostatistics, medical information, marketing, information technology and manufacturing and data management and sales, to name but a few.  So once you have your foot in the door there are endless opportunities to develop a career in the industry.  One piece of advice then be patient and be prepared to work to strict deadlines. 
Last modified: 20 September 2023
Last reviewed: 20 September 2023