Scientific Affairs Manager (Nutrition)
Scientific Affairs Manager (Nutrition)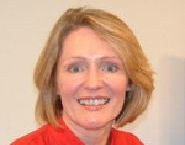 Anne
Nutrition and Scientific Affairs Manager
Due to the diversity of the roles within the industry, if you have a broad interest in science you will be able to find something that suits you. Anne
So, what do you do?
My role is Nutrition and Scientific Affairs Manager. I am responsible for advising the sales and marketing departments on all aspects of nutrition to ensure that all materials (website, literature, packaging and advertising) are accurate.
What does your typical day involve?
One of the things I like about my job is the variety. In the year since I started working in this role I have done the following diverse jobs: advised on formulation changes to infant formulas, being filmed talking to mums about feeding their babies for our consumer website, applied for ACBS  approval for a preterm formula, delivered training to our field force, checked nutrition information for packaging, and visited retailers to talk about the nutrition aspects of our products.
Do you work mostly on your own or as part of team?
I work with another Nutritionist and with Scientific and Regulatory colleagues.
How has your career developed since you left university?
My degree was in Food Chemistry and Nutrition, so I have used both aspects in jobs. I have worked as a Food Technologist, but most of my work has been with Nutrition, first for all ages, and more recently in the area of Infant Nutrition.
Why did you decide on a career in the pharmaceutical industry?
The company I work for is part of a pharmaceutical company. I didn't deliberately set out to work for a pharmaceutical company. My family are in medical roles, so I've always been interested in medicine. I enjoy learning about the therapy areas my company is involved with.
What qualifications and experience did you have when you entered the industry?
I took the Irish leaving certificate in Maths, English, Irish, Biology, Chemistry and Economics, I then went on to University College Cork and studied for a joint honours degree in Science (Food Chemistry and Nutrition). I completed part of the Masters course at Reading University (Nutrition) as a refresher when I came back to work after a nine year break to have my three children.
Do you think additional qualifications or experience would be an advantage for someone entering the industry now?
Infant nutrition is quite a specialist area and not one that there are specific courses to take. Generally I think that a Masters or PhD is very useful if you know what area you want to specialise in.
What is it like socially where you work?
It's really friendly with a Sports and Social club and regular events. We have a lovely grounds and outside area to sit and have lunch in nice weather. It's quite a young workforce and that makes it fun.
What are you most proud of in your career?
I can't think of a particular highlight, but I have organised large events and it's satisfying when they run smoothly. I have taken part in media and magazine work and I enjoy passing on useful and accurate information to parents of young children.
What possibilities are there for your career in the future?
There is still plenty of scope to develop my role, as I have been in this job for only 12 months. Once I started I recruited another nutritionist, who reports to me, so am learning management skills in addition to getting to grips with the technical aspects of the job.
What do you think are the most important skills for someone in your role to have?
Flexibility and a co-operative attitude. My job mostly involves responding to others work requests, rather than setting my own agenda.
What one piece of advice would you give to someone seeking a career in the pharmaceutical industry?
Find out what exactly interests you and what you are good at and then investigate the different fields within the industry. Due to the diversity of the roles in the industry, if you have a broad interest in science you will be able to find something that suits you.
Last modified: 20 September 2023
Last reviewed: 20 September 2023