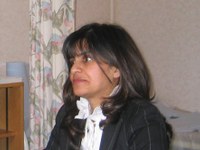 Sonal
Senior Medical Representative
I became a rep because I wanted to do something more challenging. Sonal
​So, what do you do?
I am a senior rep; my role is to promote my company's medicines to health care professionals within a given territory. I have sales target that I have to meet, and regularly monitor my business plans to achieve this. My other duties include being a mentor to new reps, and caretaking the team in my manager's absence.
What does your typical day involve?
Seeing doctors in the morning, pharmacists in the afternoon, then twice a week team meetings. I then come home and action emails.
How has your career developed since you entered the industry?
I have chosen to be a career rep, and so have been promoted to senior rep, and am working towards the next stage, executive rep.
Why did you decide on a career in the pharmaceutical industry?
My brother-in-law, who is a GP, and my sister who is in the industry, recommended it.
When did you make this decision?
I was a dispenser, and wanted to do something more challenging. I had worked up to the highest level, and could not do anymore.
What qualifications and experience did you have when you entered the industry?
I studied Pharmacy at Liverpool, but did not complete my degree. It was quite tough to get a job as a medical rep, as degree was something you really needed. The route I took was very unusual.
Do you work mostly on your own or as part of a team?
Daily I work on my own, but all our business plans etc. are done as a team, so we meet regularly to discuss what in happening in the area.
What is it like socially where you work?
We do work some evenings, and so do not regularly go out as a team. However every few months we do get together and go out socially.
What are you most proud of in your career?
I was a finalist this year at the rep of the year awards.
What possibilities are there for your career in the future?
There are many possibilities, from becoming a manager, going into training, marketing and many more.
What do you think are the most important skills for someone in your role to have?
The three most important skills are:
Communication

People skills

Organisational skills
What one piece of advice would you give to someone seeking a career in the pharmaceutical industry?
The pharmaceutical industry is a tough, but rewarding industry and the one piece of advice I would give is that to be successful you have to be a very personable and highly motivated individual.
Last modified: 20 September 2023
Last reviewed: 20 September 2023