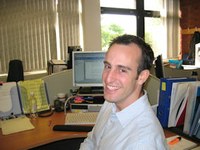 Peter
Regulatory Associate
People are very friendly in all departments and because of the interaction with different departments you get to know lots of different people. Peter
So, what do you do?
I am responsible for maintaining the pharmaceutical product licences and clinical trial applications with the regulatory authorities. This means I collaborate with people at manufacturing plants, personnel responsible for clinical research and regulatory people at the European head office to ensure that the correct information is registered with the UK regulatory authorities and our products/clinical trials are correctly registered. I also have input into the promotional material that is used by marketing teams to promote product sales. I make sure that we are not making claims that cannot be justified according to our licence.
What does your typical day involve?
The day is quite varied and can involve anything from reviewing product artwork, promotional material, submitting variations to product licences so that they are kept up to date and compliant or submitting changes to clinical trials to the UK regulatory authorities.
Do you work mostly on your own or as part of team?
A large proportion of the day is spent working on your own. There is team interaction between regulatory members to solve particular problems. There is also team interaction when working with clinical research or marketing colleagues and I attend regular meetings held by these people.
How has your career developed since you left university?
This is my first 'proper' job since leaving university and since starting 8 months ago I have managed to progress quite quickly, from performing administrative tasks to looking after specific pharmaceutical products.
Why did you decide on a career in the pharmaceutical industry?
I have always had a very keen interest in science and was interested in a role that combined the knowledge of science with the commercial world.
When did you make this decision?
Following my PhD I investigated careers in the pharmaceutical industry and spoke to people who worked in different areas. Following this I decided that this area had a good mix of different activities and involved interaction with many different types of people.
What qualifications and experience did you have when you entered the industry?
University of Bristol – Biochemistry/Genetics PhD
University of Bristol – Biochemistry BSc
Do you think additional qualifications or experience would be an advantage for someone entering the industry now?
Many people who work in regulatory affairs have a background in science – a PhD is not essential.
What is it like socially where you work?
People are very friendly in all departments and because of the interaction with different departments you get to know lots of different people.
What are you most proud of in your career?
The progression I have made since starting out – especially now that I am looking after specific products.
What possibilities are there for your career in the future?
There are many different specialties in regulatory. My current role is very diverse and I hope to experience the more specialised areas as well as gain understanding of the regulatory environments in different parts of the world
What do you think are the most important skills for someone in your role to have?
Good time management and the ability to prioritise work load. Also an attention to detail.
What one piece of advice would you give to someone seeking a career in the pharmaceutical industry?
Find out what exactly interests you and what you are good at and then investigate the different fields within the industry. Due to the diversity of the roles in the industry if you have a broad interest in science you will be able something that suits you.
Last modified: 20 September 2023
Last reviewed: 20 September 2023