Regulatory Affairs Associate
Regulatory Affairs Associate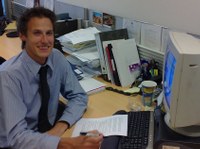 Daniel
Regulatory Affairs Associate
I did a Masters course at Kings College London, which provided me with a sound foundation in drug discovery, as it was tailored towards a career in the industry. Daniel
So, what do you do?
My work includes compiling, filing and maintaining clinical trial applications and notifications, licence/marketing authorisation applications and product licences, also safety reporting and project tracking.
The position demands up to date awareness of current regulatory requirements.  I assist in sourcing appropriate data, information and documentation from clients to meet those regulatory requirements.
Why did you decide on a career in the pharmaceutical industry?
The pharmaceutical industry seemed like the natural progression following A-levels in science, and studying pharmacology at university. I did a Masters course at King's College London, which provided me with a sound foundation in drug discovery, as it was tailored towards a career in the industry.
What qualifications do you have?
I did a  BSc (Hons) degree in Pharmacology and Physiology at Leeds University followed by an MSc in Drug Discovery (Pharmacology) at King's College London.
The Masters course was developed and run in conjunction with the pharmaceutical industry to enhance understanding and technical expertise in the drug discovery process, from target validation through to product launch.  The workshop program included a Home Office License course, in vivo pharmacology, pre-clinical investigation techniques, an extensive in vitro course, and workshops in specialist foundation and technical skills.
A five month industrial placement project with GlaxoSmithKline formed the basis of my dissertation, looking at relative steroid insensitivity in severe asthmatics.
How has your career developed since you entered the industry?
I joined this clinical research company 18 months ago. After spending time with a large pharmaceutical company it was a very steep learning curve. You have to pick things up quickly and learn as you go along. Since joining the company, I have learnt a great deal, made a large number of contacts in the field, and achieved a great deal in the projects I have put my name to.
What does your typical day involve?
The beauty of my job is that no two days are ever the same. Typically, I will have to work on a number of projects on any one day, and I have to try and decide what is most important for each study.  The ability to justify your decisions in a very short space of time comes in handy.
Do you work mostly on your own or as part of team?
I have sole responsibility for the regulatory project management of three studies, but work very closely with the other members of the department. A good working knowledge of all studies taking place within the organisation is essential to stay up to date with what everyone else is doing.
What are you most proud of in your career?
I am proud every time a client congratulates me on a piece of work well done.
What possibilities are there for your career in the future?
I am looking to become a regulatory manager once I have obtained five years experience, and to diversify into other fields of regulatory affairs. I think the bridge between the large pharmaceutical companies and contract clinical research is less than it used to be, and more people are now making the switch backwards and forward between the two specialities.
What do you think are the most important skills for someone in your role to have?
The ability to prioritise, work independently and within a team, multi-task, and stay positive.
What one piece of advice would you give to someone seeking a career in the pharmaceutical industry?
Get as much experience as you can in different fields, and use any opportunities that come along wisely.
Last modified: 20 September 2023
Last reviewed: 20 September 2023