Quality and Compliance Vice President
Quality and Compliance Vice President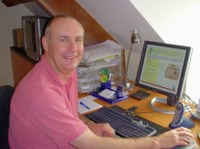 Eamonn
Vice President, Medical Devices Quality & Compliance Strategic Programs
There is no such thing as a typical day – the main feature of my work is the variety – on any particular day, I could be almost anywhere in the world. Eamonn
So, what do you do?
I am responsible for the implementation of the requirements of the forthcoming European Union Medical Devices Regulation within the Quality and Regulatory Compliance function.
How long have you been in your current role?
I joined the company I currently work for in 2000 and have been in this role, with increasing responsibilities, since then.
What qualifications and experience did you have when you entered the industry?
I studied Pharmacy at the University of Bath and graduated with a Bachelor of Pharmacy degree in 1979. I completed my preregistration training in hospital pharmacy and registered as a member of the Pharmaceutical Society of Great Britain in 1980 (now the Royal Pharmaceutical Society).
I returned to the University of Bath to undertake research for a Ph.D. in pharmaceutical microbiology.
On graduating, I joined the Scientific and Technical Branch of the Department of Health, initially working on sterilization but having opportunities to be involved in GMP/Quality Management and a wide range of other areas. This went through several reorganisations and I had positions of increasing responsibility, ending up as the Head of the Device Technology and Safety unit. I became a Fellow of the Royal Pharmaceutical Society in 2004.
What does your typical day involve?
There is no such thing as a typical day – the main feature of my work is the variety – on any particular day, I could be almost anywhere in the world, at a manufacturing facility, meeting with regulators or industry associations, developing international standards or presenting at a conference.
How has your career developed since you entered the industry?
I started with responsibility for compliance with regulatory requirements for quality in Europe, Middle East and Africa and have since taken on wider geographic responsibilities and taken on specific projects. Then I established a new Compliance function with responsibility for the company's medical devices companies worldwide before taking a newly created position as Head of Quality for our medical devices sales and marketing companies around the world.
Why did you decide on a career in the pharmaceutical industry?
I wanted to continue being involved in activities with a technical focus but in a broader range – I had the opportunity to be involved with pharmaceuticals, medical devices, diagnostics and consumer products throughout their lifecycles.
Do you work mostly on your own or as part of team?
I work with a variety of different teams in the Quality and Compliance function as well as in cross-functional teams.
What is it like socially where you work?
As I am not based in a single location and travel a lot, it is difficult to say where I work! When our global teams get together there is always a social as well as a work dimension.
What are you most proud of in your career?
I have been involved for many years in developing international standards for validation and routine control of sterilization – we have just completed a major revision of the standards for major sterilization processes and, for the first time, published a consistent and coherent (I think) set of standards. I also have worked extensively on international standards for quality management systems, including the revision of ISO 9001 and the revision of the medical devices quality management system standard ISO 13485.
I was involved in co-leading a team looking at the relationships with external manufacturing partners, which included a review of the way that relationships were managed in countries all around the world. We have now rolled out a set of standards and processes that are being implemented at the moment.
I have also had the opportunity to establish new groups within the Quality function from the ground up.
Do you think additional qualifications or experience would be an advantage for someone entering the industry now?
I think that the most important things are to have a positive attitude, be flexible and be willing to learn.
What possibilities are there for your career in the future?
There are a range of possibilities and I don't want to restrict myself by having too specific a plan.
What do you think are the most important skills for someone in your role to have?
Credibility and flexibility. Also, to be able to see how the detail fits into the big picture and to get alignment across a variety of functions within the organization.
What one piece of advice would you give to someone seeking a career in the pharmaceutical industry?
There are a wide range of opportunities – don't let yourself get put into one pigeon hole.
Last modified: 20 September 2023
Last reviewed: 20 September 2023