Project Manager / Director
Project Manager / Director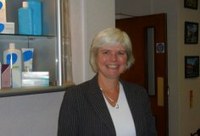 Jackie
Global Senior Director of R&D Project Management
I am proud of the fact that I managed to juggle a career with bringing up a family. Jackie
So, what do you do?
I am responsible for establishing and running a Global R&D Project Management Function involving R&D sites in the US, Brazil and the UK.
I am also Project Leader for development of a new medicine.
How long have you been in your current role?
Essentially one year, I became Global Director in May 2006, and was made Global Senior Director May 2007.
Why did you decide on a career in the pharmaceutical industry?
I spent the summer, before going to University, at Beecham's R&D labs in Brentford and decided immediately that pharmaceutical development in the industry was for me.  I had previously worked in retail pharmacy at weekends and during my holidays.  In fact locums in retail helped to fund me through my PhD.
What qualifications and experience did you have when you entered the industry?
I have a degree in pharmacy from London University (Chelsea College which is now part of Kings) and a PhD undertaken at the Chelsea Department of Pharmacy where I studied release of drugs from controlled delivery systems.
How has your career developed since you entered the industry?
I joined the Industry in 1981 on completion of my PhD.  Working in liquid formulation, I became section leader after one year.  I left in 1984 to start a family and worked for a Regulatory Affairs Consultancy on a part time basis to gain experience in the field.  Four years later I branched out alone and worked as a self employed Regulatory Affairs Consultant for over ten years.
I joined my current company in 1999 to set up Project Management at the UK R&D site, becoming Head of Regulatory Affairs and Project Management in early 2000. Since then I have set up the Global Project Management Function across R&D sites in the US, Brasil and UK.
What does your typical day involve?
As I am working on a global basis I have many global telecons and meetings, particularly with the US.   I spend time reading emails to be updated on the project I run and progressing processes / training etc. within the new function.  I represent Project Management on the R&D Executive Committee.  I travel extensively having been to the US 16 times in the last 16 months.
Do you work mostly on your own or as part of team?
I lead a team developing a new medicine so have a lot of contact with the team members.  Some contact with UK team members is face to face but I spend a considerable amount of time on trans-Atlantic telecons and Webex.
What is it like socially where you work?
The company has a good social club and colleagues are supportive and friendly.
What are you most proud of in your career?
The highlight has been leading a project to bring a new medicine to market and helping colleagues develop and grow in their roles.
What do you think are the most important skills for someone in your role to have?
Excellent Communication and inter personal skills, good team player, good leadership qualities and an ability to listen.
What one piece of advice would you give to someone seeking a career in the pharmaceutical industry?
If seeking a position in R&D obtain a PhD or post graduate qualification in chosen field.
Last modified: 20 September 2023
Last reviewed: 20 September 2023